Segmen hotel Select-Service milik Marriott International Inc. tahun ini melakukan ekspansi besar di kawasan Asia Pasifik.
Dengan tujuh merek hotel yang berbeda termasuk Fairfield by Marriott, Courtyard by Marriott, Four Points by Sheraton, Aloft, Moxy, Element and AC Hotels, hotel-hotel pada segmen Select-Service ini menjadi segmen dengan pertumbuhan tercepat di Asia Pasifik, di antara segmen hotel Marriott International lainnya.
"Wisatawan akan memiliki pilihan yang lebih banyak di berbagai destinasi baru yang saat ini sedang bertumbuh, tanpa perlu berkompromi pada kualitas layanan yang menjadi standar Marriott International di seluruh dunia," jelas Peggy Fang Roe, Chief Sales and Marketing Officer Asia-Pacific, Marriott International.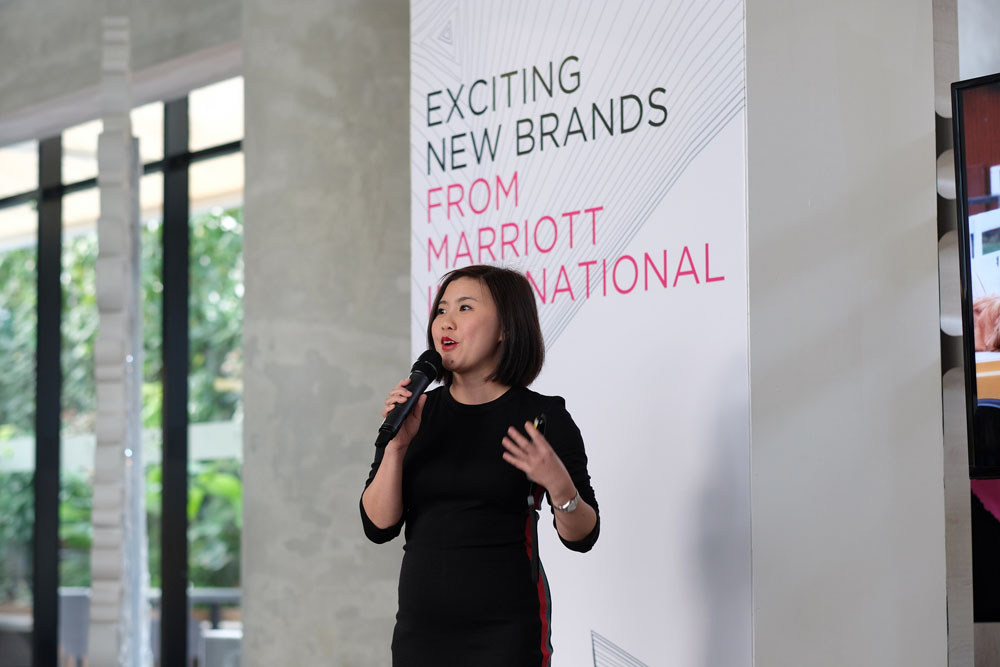 Dimulai dari Aloft Hotel. Dengan lebih dari 100 hotel yang kini telah dibuka di 19 negara di seluruh dunia, Aloft Hotels menjadi salah satu merek perhotelan dengan pertumbuhan tercepat dan mengedepankan teknologi, pengalaman menarik dan gaya modern yang berbeda karena desain. Tahun ini, Aloft Hotels melakukan debut di Australia dan Indonesia dengan pembukaan Aloft Perth di bulan Mei dan Aloft Jakarta Wahid Hasyim di bulan November.
Tak hanya itu, di 2018 Aloft juga berniat membuka jaringan lainnya, seperti di Shanghai Zhangjiang Haike dan Aloft New Delhi Aerocity. Keduanya mempertunjukkan bagaimana desain berbeda yang ditawarkan Aloft dapat mengakomodir permintaan pasar yang kerap bertumbuh terdahap adaptasi teknologi, wisatawan global dan masyarakat urban yang berkembang di ruang sosial.
Merek hotel ke dua yang akan membuka jaringan baru adalah Moxy. Merek hotel pada segmen Distinctive Select ini melakukan debut perdana di Asia Pasifik dengan pembukaan Moxy Bandung pada Oktober lalu. Diikuti pembukaan dua hotel di Jepang pada November 2017: Moxy Tokyo Kinshicho dan Moxy Osaka. Diestimasi bahwa jumlah property Moxy dapat mencapai 150 hotel secara global, pada sepuluh tahun mendatang.
Populer dikalangan pebisnis dan pelancong, jaringan hotel ke tiga adalah Courtyard by Marriott yang telah meresmikan Courtyard by Marriott Changsha dan Courtyard by Marriott Tianjin di Zhengzhou, Shanghai dan Chengdu pada 2018. Di Tiongkok, total kini terdapat 19 hotel Courtyard, dengan 38 hotel lainnya dijadwalkan untuk segera dibuka.
Pun di daerah kesehatan Novena Singapura, pada Oktober 2017 telah dibuka Courtyard by Marriott Singapore Novena yang menjadi debut perdana merek hotel ini di Singapura. Courtyard siap untuk menjelajah negara-negara lain di Asia Tenggara dengan pembukaan Courtyard by Marriott Siem Reap Resort. Dijadwalkan untuk dibuka pada awal 2018.
Debut perdana di Kamboja, akan segera diikuti dengan dibukanya Courtyard by Marriott Phnom Pehn pada paruh kedua 2018. Courtyard by Marriott hotel di Nha Trang, Vietnam dan Yangon, Myanmar juga direncanakan untuk dibuka dalam jangka waktu lima tahun ke depan. Untuk wilayah Asia Pasifik, saat ini terdapat 46 hotel Courtyard yang telah dibuka dan 67 lainnya direncanakan untuk dibuka, menjadikan Courtyard sebagai mereka ketiga terbesar di Asia Pasifik.
Selanjutnya Fairfield by Marriott, yang juga masuk dalam segmen Classic Select. Merayakan hari jadi ke-30 tahun, Fairfield menjangkau pebisnis dan pelancong yang mencari kualitas dan nilai. Di wilayah Asia Pasifik, pembukaan Fairfield Nanning Nanhu Park menjadi debut Fairfield di Tiongkok – hotel pertama dari 100 hotel lainnya yang akan dibuka di Tiongkok dalam lima tahun ke depan, yang menjadi bagian dari perjanjian pembangunan eksklusif antara Marriott International dan Dossen International Group. Ada delapan hotel Fairfield lainnya yang dijadualkan untuk dibuka di Tiongkok pada tahun 2018, termasuk Fairfield by Marriott Guangzhou Tianhe Park dan Fairfield by Marriott Hangzhou East.
Fairfield juga akan melakukan debut perdana di Korea Selatan dengan dua pembukaan, termasuk Fairfield by Marriott Seoul (hotel Fairfield by Marriott terbesar di dunia, dengan 553 kamar) dan Fairfield by Marriott Busan Haeundae, keduanya akan dibuka pada musim panas tahun 2018. Fairfield by Marriott di Busan, juga akan dibuka pada tahun 2019, kali ini mengambil lokasi di Songdo.
Sementara Element Hotels yang pertamakali dibuka pada 2008 memulai debutnya di Asia Tenggara dengan membuka jaringan hotel di Mei 2017. Dibukanya Elemen Chongli pada bulan Juli 2017 menandai resor ski pertama merek hotel ini, yang terletak di Resor Ski Thaiwoo, Zhangjiakou, China ー tempat resmi untuk Olimpiade Musim Dingin 2022. Element Bali dan Element Xiamen Haicang dijadwalkan untuk dibuka bagi para wisatawan pada tahun 2018.
Dan yang terakhir adalah AC Hotel. AC Hotel diluncurkan di Eropa sejak 2011 sebagai usaha kerja sama dengan pengusaha Spanyol Antonio Katalan. AC Hotels by Marriott saat ini menawarkan portofolio lebih dari 100 hotel di Brasil, Denmark, Italia, Perancis, Meksiko, Portugal, Spanyol, Turki, dan Amerika Serikat. AC Hotels menawarkan pendekatan sleek dan modern untuk desain, dikombinasikan dengan elemen unik yang mewujudkan karakter dari setiap destinasi tujuan.