Ferrari Owners Club Indonesia secara sukses telah menggelar agenda tur terbaiknya berkendara dari kota kelahiran dari Ferrari Maranello menuju destinasi kota terbaik di Eropa yakni Tuscany, Firenze, Monte Carlo, Milan, and Modena dengan total rute perjalanan sejauh 1600km.
Total sebanyak 28 Ferrari dari berbagai seri dan warna berhasil menjelajah beragam rute jalanan yang menantang dan tentunya indah. Selama tujuh hari, para peserta diajak untuk merasakan pengalaman yang tak terlupakan berkendara di balik kemudi Ferrari.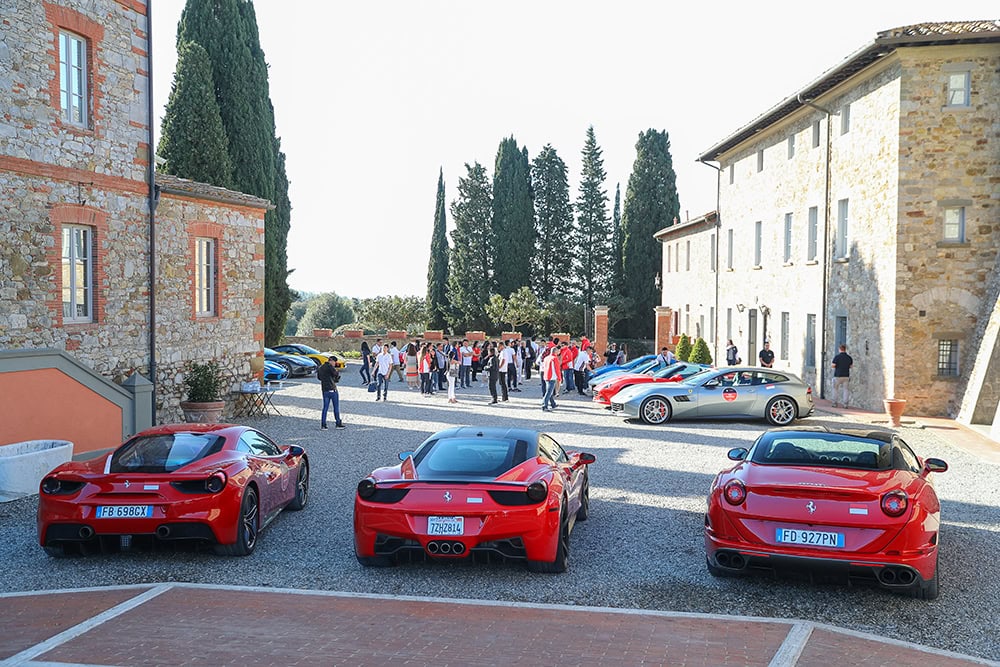 Awal perjalanan dimulai ketika para anggota komunitas sampai di kota kelahiran dari 'The Prancing Horse' Maranello. Di sana seorang ahli perancang desain yang berasal dari pabrik perakitan Ferrari secara khusus menyambut kedatangan mereka. Dengan antusias para peserta juga mendapatkan kesempatan langka dengan acara private review dari Ferrari Portofino, salah satu seri kendaraan Ferrari terbaik yang hingga kini kehadirannya belum bisa ditentukan di tanah air. Acara malam itu, ditutup dengan sajian makan malam yang digelar di Hall of Victories yang berlokasi di Museo Ferrari Maranello. Para peserta yang hadir, nampak menggunakan baju khas Indonesia, batik.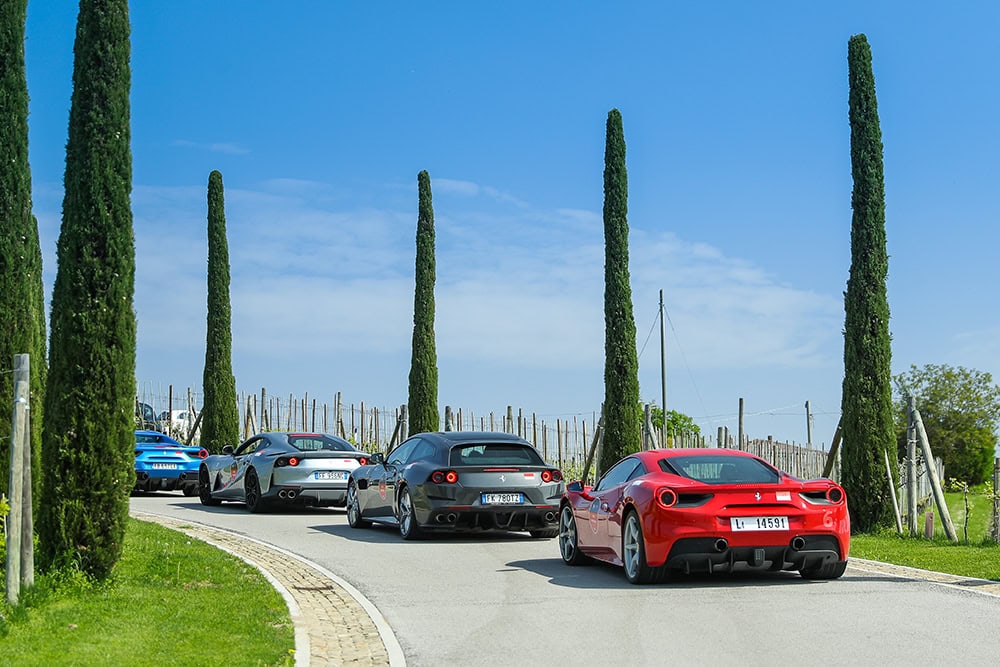 Di tanggal 20 April, para pemilik Ferrari kemudian memulai rute perjalanan mereka dengan mengambil start di area parkir di sekitar pabrik Ferrari di Maranello. Turut berpartisipasi dalam acara ini semua kendaraan terbaik dari Ferrari, yang dimulai dari Seri 488, Ferrari seri GTC4 Lusso/T, dan Ferrari dengan mesin terbaik, 812 Superfast.
Menjadi emosional ketika para peserta berkendara melewati melewati area Pabrik Ferrari untuk kemudian menuju area pedesaan yang sarat dengan pemandangan yang indah dan tanaman hijau dan dikelilingi oleh bangunan-bangunan yang memiliki arsitektur berciri khas Italia.


Destinasi di hari ketiga adalah kota bersejarah Florence. Untuk menuju kota ini, para peserta harus melewati jalan-jalan di Italia yang berliku. Disepanjang jalan, tak jarang mata mereka disambut oleh pemandangan indah dari terowongan yang memotong bukit-bukit kecil, dengan hembusan angin musim semi yang lembut meniup vegetasi di pinggir jalan, dan hamparan langit biru jernih. Masing-masing peserta dapat menikmati gaya hidup ala Florentine yakni, bersantap di SE-STO, Arno Terrace hingga belanja fashion di The Mall, Firenze. Rute selanjutnya adalah berkendara menyusuri wilayah terbaik dari kota legendaris Monte Carlo di Monako, lalu menuju Menara Miring Pisa, dan kota tepi laut yang indah di Forte dei Marmi. Sajian hidangan makan malam mewah di Monako Yacht Club mengakhiri perjalanan di hari keempat mereka di Italia.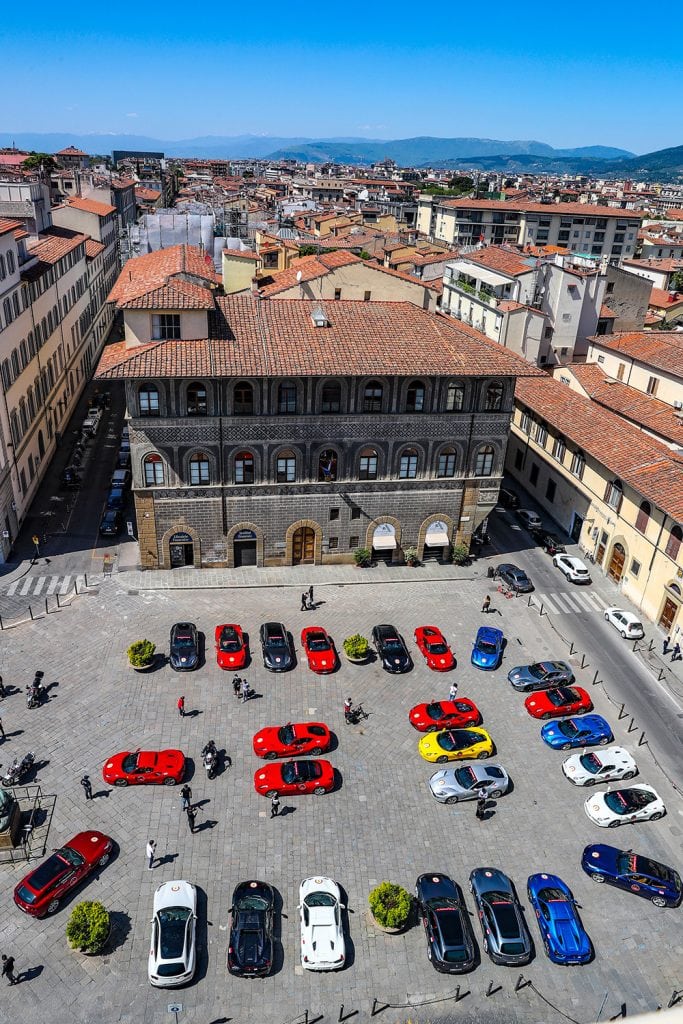 Di hari kelima, rute perjalanan yang membelah pegunungan Alpen antara Moulinet dan La Bollène-Vésubie, yang juga dikenal sebagai Col de Turini mengantar para peserta menuju Eze, restoran dengan predikat dua bintang Michelin-starred Chateau de la Chevre d'Or.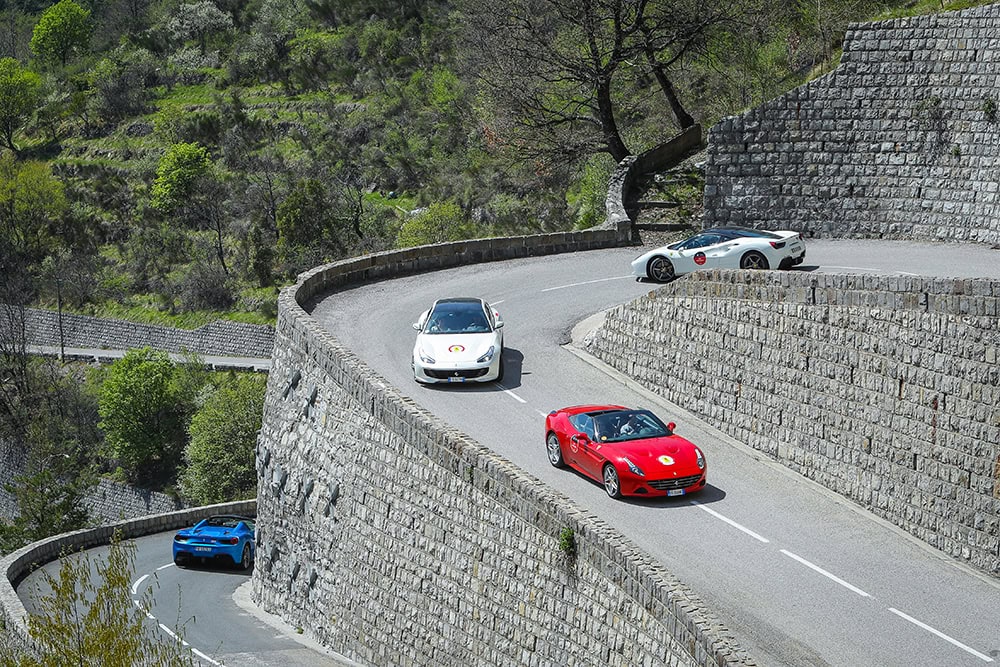 Sementara di hari ke enam, perjalanan rute grand tur mengajak mereka untuk menuju tempat pembuatan anggur ternama di Italia, Batasiolo's wineries. Dari sana kemudian perjalanan kembali menuju ke Kota Milan untuk sekedar meluangkan waktu berfoto bersama di Corso Venezia. Perjalanan menakjubkan ini berakhir dengan hidangan istimewa dari restoran khas Italia, the Armani Nobu sebelum kemudian berkendara kembali menuju Kota Modena. Sebuah restoran dengan pemandangan alam yang indah terletak di atas atap istana Formigine menjadi agenda terakhir bagi para peserta grand tour dalam menjelajah kota Italia secara sempurna.