Bersama jajaran SUV premiumnya, Mercedes-Benz tengah merombak segmen SUV mewah serta menawarkan jajaran mobil yang tak tertandingi di kelasnya. Semangat Hungry for Adventure berupaya untuk meyakinkan para pelanggan bahwa jajaran SUV Mercedes-Benz merupakan pilihan kendaraan utilitas premium yang tepat dengan beragam kemampuan yang luar biasa – hal ini semakin ditekankan dengan tingkat kepraktisannya yang tinggi serta kegunaannya sebagai pelengkap gaya hidup aktif para pelanggan Mercedes-Benz yang gemar bertualang.


"Bertepatan dengan ulang tahun ke-40 Mercedes-Benz G-Class, kami dapat mengatakan bahwa saat ini kami telah menawarkan jajaran SUV premium terluas. Sebagai merek otomotif premium teratas, kami sangat bangga dapat terus menyediakan beragam mobil kelas dunia bagi mereka yang gemar bertualang dengan menetapkan tolok ukur baru dan menciptakan beragam terobosan. Semua model dalam jajaran
PT Mercedes-Benz Distribution Indonesia, Public Relations, Jakarta/Indonesia Mercedes-Benz – merek milik Daimler SUV premium Mercedes-Benz memungkinkan para penggunanya untuk menjalani gaya hidup yang unik dan menarik, sehingga menjadikannya pilihan yang ideal untuk segala situasi," kata Roelof Lamberts, President & CEO PT. Mercedes-Benz Distribution Indonesia.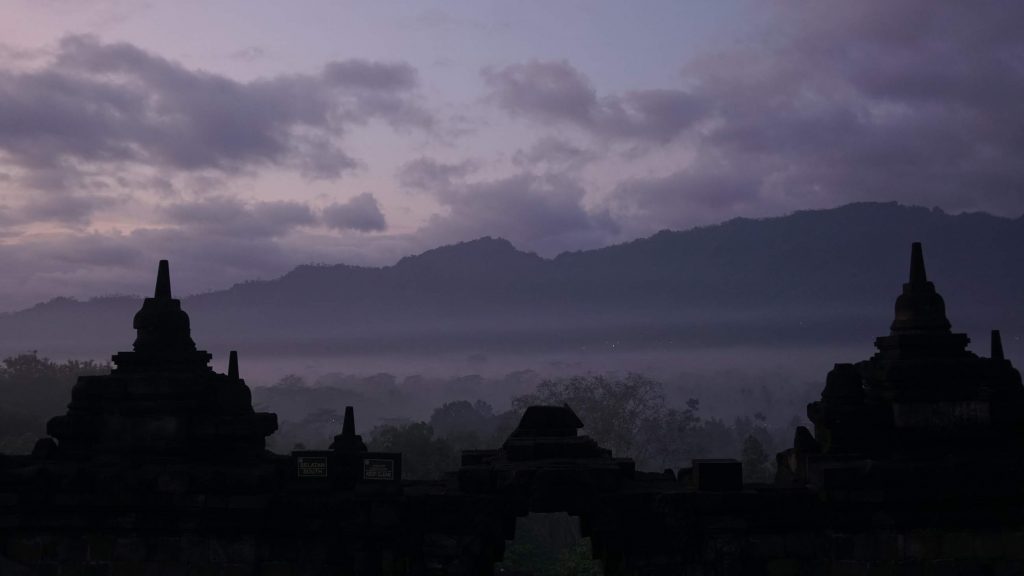 Dirancang khusus bagi mereka yang gemar bertualang, jajaran SUV premium Mercedes-Benz berhasil menggabungkan kenyamanan berkendara tingkat tinggi dengan sentuhan sporty serta kelincahan yang luar biasa. Bagi mereka yang hidup dinamis, atau menginginkan kemampuan dalam menghadapi segala tantangan, atau gemar mencari dorongan adrenalin, tentunya SUV Mercedes-Benz akan menjadi pilihan yang sempurna. Dalam ajang Hungry for Adventure sebelumnya, SUV Mercedes-Benz telah menjelajahi sejumlah destinasi menarik di Malaysia. Tahun ini, perjalanan penuh tantangan tersebut akan diadakan di Indonesia, yang menawarkan beragam lokasi memukau seperti air terjun Curug Lawe di Ungaran, Goa Jomblang dan pantai Parangtritis di sepanjang pesisir selatan pulau Jawa. Puncaknya, Candi Borobudur yang historis juga dikunjungi oleh serangkaian varian SUV Mercedes-Benz.
"Kami bangga atas kesempatan yang diberikan kepada Indonesia sebagai tuan rumah ajang tahunan Hungry for Adventure yang memberikan sorotan utama bagi kendaraan SUV Mercedes-Benz. Ajang Hungry for Adventure 2019 akan menempuh jarak sekitar 435 km di sejumlah kawasan di provinsi Jawa Tengah seperti Yogyakarta dan Semarang, yang juga diselingi dengan kunjungan terhadap sejumlah tempat bersejarah. Dengan menghadirkan rangkaian varian SUV terlengkap dari GLA yang kompak hingga ke G-Class, kami menawarkan pengalaman yang tidak terlupakan dalam segala kondisi jalan," ujar Roelof Lamberts.
Mercedes-Benz memperkenalkan dua varian SUV baru Memasuki varian SUV Mercedes-Benz: The new GLA 200 Urban Dengan the new GLA 200 Urban, Mercedes-Benz berupaya untuk menambahkan satu lagi varian SUV yang menarik ke portofolio modelnya. Mercedes-Benz GLA selalu mengesankan, terutama dengan karakternya yang progresif serta pengendaliannya yang lincah.
Dengan desain yang progresif, yang nyaman untuk penggunaan sehari-hari, dan kemampuan off-road yang mumpuni—Mercedes-Benz GLA telah menjadi sebuah model pengembara dunia otomotif yang mengesankan serta berhasil menyegarkan kembali segmen SUV kompak. Tak hanya itu, GLA dapat PT Mercedes-Benz Distribution Indonesia, Public Relations, Jakarta/Indonesia Mercedes-Benz – merek milik Daimler menghadapi semua tantangan berkendara sehari-hari dengan mudah dan juga tangguh saat digunakan untuk bertualang. Dengan dua pilihan varian berbeda—"Urban" dan "AMG Line", GLA menawarkan ruang individualisasi yang luas bagi para penggunanya.
The new Mercedes-Benz GLA 200 Urban dilengkapi dengan gril radiator dengan dua buah louvre dan sisipan krom, velg twin-spoke berbahan light-alloy berukuran 19 inci dan juga sistem knalpot berpipa kembar dengan trim knalpot berlapis krom yang terpasang pada bemper. Di bagian interior, karakter elegan khas GLA urban semakin menonjol dengan dipasangnya kursi berbahan ARTICO leather, roda kemudi multifungsi dalam balutan kulit dengan area pegangan yang berpori. Potongan trim berbentuk trapeze semakin melengkapi tampilan the new GLA 200 Urban yang berkualitas tinggi.
The new GLA 200 Urban menyambut Anda dengan panel illuminated door sill dengan lettering "Mercedes-Benz" yang eksklusif. Varian ini juga dilengkapi dengan kursi depan yang dapat diatur secara elektrik sehingga memungkinkan penyesuaian posisi kursi secara nyaman sesuai preferensi masing-masing. Fungsi memori di kursi pengemudi memungkinkan pengguna menyimpan hingga tiga pilihan posisi kursi dan kaca spion luar sehingga dapat dipilih kembali dengan mudah. Fitur ini sangat berguna ketika mobil digunakan oleh pengemudi lain. The new GLA 200 Urban juga menawarkan fitur ambient light yang mampu menerangi kendaraan secara elegan dengan indirect lght yang nyaman di mata. Sistem pencahayaan sekitar ini menciptakan nuansa elegan di seluruh eksterior kendaraan. Tersedia 12 pilihan warna dan lima tingkat pencahayaan berbeda yang dapat diatur oleh pengguna untuk mendapatkan suasana yang diinginkan.
GLA juga hadir dengan sistem multimedia Audio 20 sebagai standar, dengan paket integrasi Smartphone yang memungkinkan konektivitas ke perangkat Apple iPhone menggunakan CarPlay dan perangkat smartphone Android menggunakan Android Auto. Fitur ini memastikan pengemudi dapat menggunakan smartphone secara aman saat berkendara. Harga untuk Mercedes-Benz GLA 200 Urban adalah Rp. 699,000,000 off the road.