Merayakan ditayangkannya kembali serial televisi ternama dari HBO yang penuh petualangan, misteri dan intrik Game of Thrones, JOHNNIE WALKER®, Scotch wiski No. 1 didunia, meluncurkan Scotch wiski terbaru dengan perpaduan rasa unik – yaitu White Walker by JOHNNIE WALKER®. Scotch wiski edisi special ini terinspirasi dari tokoh paling misterius dan ditakuti pada serial GoT- the White Walkers.
Wiski yang terinspirasi dari Game of Thrones hadir untuk menemani anda merayakan rilisnya musim terakhir dari serial tv tersebut. Untuk merayakan peluncuran Scotch wiski ini, JOHNNIE WALKER® menghadirkan sebuah pengalaman unik bertajuk 'Step into the Frozen North' dengan White Walker by JOHNNIE WALKER® di Red & White Gandaria City.


Para tamu yang hadir dan juga para penggemar GoT dapat merasakan sensasi duduk di atas Iron Throne dan mencicipi White Walker by JOHNNIE WALKER® pada sesi mentoring imersif yang dipandu oleh Whisky Portfolio Manager Diageo, Dannies Hendrato.
Pengunjung diajak untuk menjelajahi kedalaman dan kompleksitas rasa yang ditawarkan pada minuman ini yang disuguhkan secara neat, cocktail menyegarkan khas JOHNNIE WALKER® the White Walker Highball juga Old Fashioned. Bagi Anda yang tertarik dan ingin mencicipi kesegaran dari White Walker, Anda bisa mengunjungi Red & White di Gandaria City pada 12 – 17 Februari 2019.
Scotch wiski edisi khusus ini merupakan hasil penyulingan Single Malts dari daerah Cardhu dan Clynelish yang merupakan salah satu tempat penyulingan paling utara di Skotlandia – bertujuan membawa anda merasakan sensasi the Frozen North.
Di tangan para ahli peramu dan peracik andal JOHNNIE WALKER® wiski George Harper beserta timnya, minuman ini memberikan cita rasa karamel dan vanila, beri merah segar dengan sentuhan buah-buah orchard. Paling enak disajikan sangat dingin, efek membeku menciptakan permainan penuh rasa di mulut. Rasa dingin melembutkan rasa-rasa awal dengan aroma yang halus dan dingin yang mengundang konsumen untuk menyelidiki lapis-lapis rasa yang lebih hangat dan lebih berbumbu di akhir.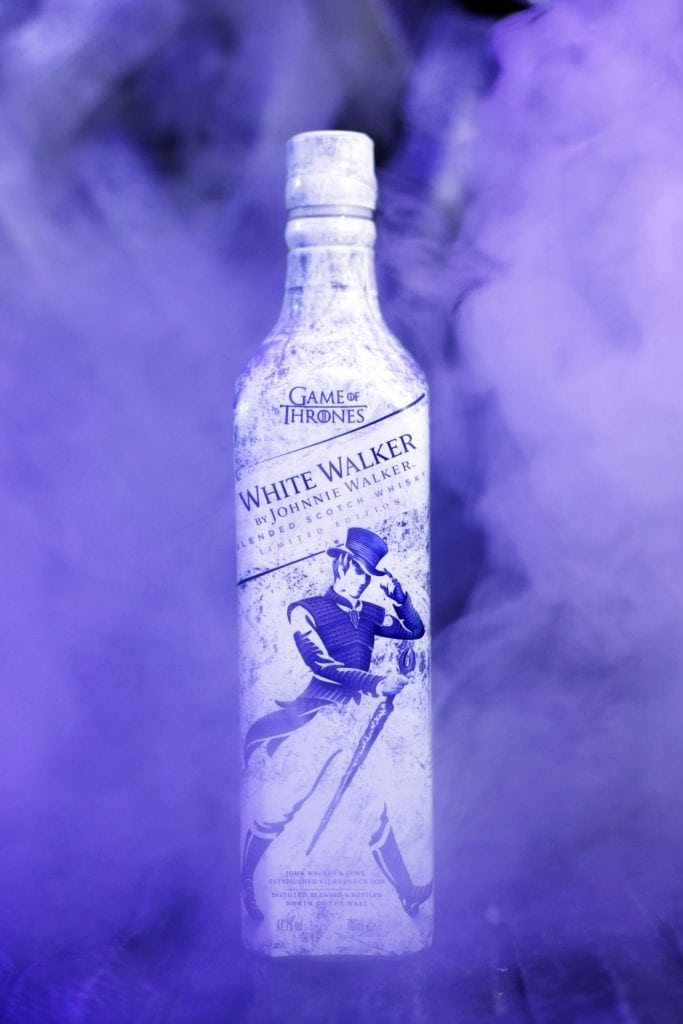 George Harper, terinspirasi dari Frozen North Skotlandia yang dalam serial GOT dikatakan mencipta karakter antagonis terkuat yakni para the White Walker. Menurutnya, "Wiski dari tempat penyulingan paling utara di Skotlandia, seperti Cardhu dan Clynelish, telah bertahan melewati musim dingin Skotlandia yang panjang. Serupa dengan periode panjang yang dilalui oleh para Night's Watch (karakter dalam GoT) yang berkelana ke utara – jadi utara Skotlandia menjadi tempat sempurna untuk mulai menciptakan wiski unik ini."
Desain botol yang berwarna putih es dan biru menampilkan JOHNNIE WALKER® Striding Man yang ikonik, kini mengenakan baju baja agar sepadan pada jajaran pasukan Night King's icy army of the undead. White Walker by JOHNNIE WALKER® ini baik disajikan dingin langsung dari freezer. Ketika didinginkan ke 1.5 derajat celcius, minuman ini mengembangkan sifat kompleks ketika suhu minuman berubah ke suhu ruangan.
Dengan menggunakan tekonologi tinta yang sensitif suhu, para penggemar akan diingatkan bahwa "Winter is Coming" pada saat botol menampilkan efek es yang pecah ketika terjadi gema mengerikan dari para White Walkers.