Suara gesekan cello di tangan Yo Yo Ma, merayap-rayap mengikuti gerakan tubuh Asmara Abigail, suara sayatan cello tertahan di dalam atrium De Javasche Bank yang didirkan tahun 1828 (kini menjadi Museum Bank Indonesia). Entah siapa mengiringi siapa, kedengarannya sepertinya cellist Yo Yo Ma mengiringi gerakan Asmara, tapi kalau melihat wajah Yo Yo Ma yang tak henti memandang Asmara dan gesekan tangan yang mengikuti ketukan gerak tubuh Asmara sepertinya Asmara lah yang mengiringi cello Yo Yo Ma. Menurut Asmara, tidak ada latihan dan pertemuan untuk persembahan kolaborasi ini. Asmara bertemu Yo Yo Ma hanya beberapa saat sebelum aksi kolaborasi berlangsung. Dan sore pun begitu syahdu dengan gerak tari dan gesek cello. Asmara mengenakan kain batik hasil tangan desa kecil, Gesikharjo, di jawa Timur, bermarna cokelat bronze motif bunga-bunga kecil. Entah sengaja atau tidak, warna kain batik Asmara sama dengan warna cello Yo Yo Ma.
Ber Sukkha Citta Dengan Tangan
Kolaborasi Asmara dan Yo Yo Ma ini dalam rangka pembukaan pameran "t'angan: The Hands Shaping Indonesia's Culture", pameran yang diadakan oleh Rumah Sukkha Citta, sebuah platform untuk artisan dengan karya-karya yang sustainable, handmade, alami, dan ramah lingkungan. Ini petikan slogan Rumah Sukkha Citta: we make the most meaningful clothes – for you, for our artisans & for the environment. Pameran t'angan, yang berarti tangan dan bisa juga bermakna 'the angan', kaya akan makna filosofis. Kolaborasi dengan cellist Yo Yo Ma, menegaskan betapa berartinya gerakan tangan untuk sebuah karya cipta. Tangan Yo Yo Ma yang menggesek dan memetik dawai juga diberi kesempatan untuk mencoba mengoreskan batik bersama wanita-wanita dari Gesikharjo.
Bach Project Untuk Membangun Masa Depan
NEST, organisasi nirlaba yang berada dibalik kolabotasi Asmara Abigail, Yo Yo Ma, dan Rumah Sukkha Citta ini. NEST berkomitmen untuk menyokong artisan-artisan yang melestarikan budaya. Saat ini komunitas NEST sudah mencapai 670 orang artisan di lebih dari 100 negara. Dalam rentang waktu bersamaan, Yo Yo Ma juga tengah melakukan tur amal, bernama Bach Project, menampilkan solo cello karya Johann Sebastian Bach di 36 titik di berbagai negara salah satunya Indonesia. Bagi Yo Yo Ma, music Bach bukanlah sekedar musik konser semata, usia music Bach yang sudah 300 tahun adalah contoh bagaimana sebuah budaya bisa menghubungkan manusia dan membantu manusia untuk berimajinasi membangun masa depan yang lebih baik.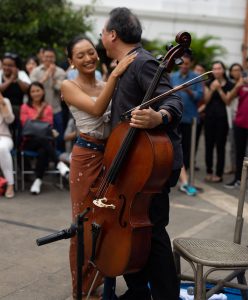 Foto: Sukkha Citta