Pernahkah melihat pakaian berbahan Batik yang over-designed? Beuh, banyak ya. Biasanya hanya membuat pemakainya tampak seperti a piece of cheap art dari pada sesosok yang tampil elegan dan 'Darling'.
Level Elegansi
Di antara keruwetan rancangan Batik yang mengatasnamakan 'cinta Batik sebagai bukti cinta tanah air', muncul Yanny Tan dengan tawaran desain yang chic. Ia mengenyahkan segala kreatifitas berlebihan, fokus pada keindahan motif Batik, menjaga look dengan level elegansi dan sophistication yang paten.
Rancangan terdiri dari gaun-gaun panjang eveningwear berbahan Batik sutra. Siluet rancangan cenderung memanjang dan loose memberi kesan tubuh yang tinggi. Motif-motif yang diambil turut menghadirkan kesan elegan, layak untuk berlalu di atas red carpet dengan sentuhan Indonesia tanpa kehilangan personality.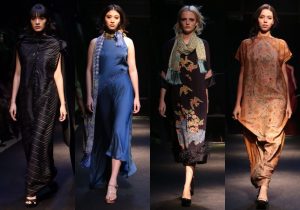 Lereng Jepang, Turki dan Peranakan.
Semua motif diciptakan di rumah produksi Batik pribadi, sehingga motif Batik yang dipilih bisa match dengan bentuk rancangan. Yanny menciptakan sendiri motif-motif tersebut, tentu saja ketika dalam proses pembuatannya Yanny bisa membayangkan bagaimana komposisi hasil akhir sketsa Batiknya di dalam sepotong pakaian.
Selain mengangkat motif Lereng dan Kupu pada Batik ciptaanya, Yanny juga menyerap ragam seni dari Jepang, Turki dan Peranakan, untuk memperkaya pilihan motif. Semua diredam dalam palet warna yang monotone, sehingga elegansi tetap terjaga dan berimbas pada yang memakai juga akan terbawa elegan.
"I love to make women look beautiful, confident, and comfortable through the clothes they wear without loosing their root.", ujar Yanny Tan di Nusantara ballroom, Hotel Dharmawangsa Jakarta.
Foto: Tim Muara Bagdja