911 Sport Classic baru adalah item kolektor kedua di antara empat yang disajikan Porsche dari strategi Heritage Design. Sebanyak 1.250 unit model edisi terbatas dari Porsche Exclusive Manufaktur akan menghidupkan kembali gaya tahun 1960-an dan awal 1970-an. Seperti pendahulunya, 911 Sport Classic berbasis 997 yang di-luncurkan pada tahun 2009, tampilan model ini terinspirasi oleh 911 asli (1964 – 1973) dan 911 Carrera RS 2.7 tahun 1972. "Model Heritage Design mewakili konsep strategi produk Porsche yang paling didorong secara emosional," kata Alexander Fabig, Vice President Individualization and Classic. "Pendekatan unik ini melihat departemen desain Style Porsche bekerja dengan Porsche Exclusive Manufaktur untuk menafsirkan kembali model dan peralatan 911 yang ikonik dari tahun 1950-an hingga 1980-an dan untuk menghidupkan kembali fitur-fitur desain dari dekade-dekade itu." Porsche meluncurkan empat model edisi terbatas dalam waktu yang lama. Yang pertama disajikan pada tahun 2020: 911 Targa 4S Heritage Design Edition dengan elemen desain dari tahun 1950-an dan 1960-an. Porsche Design juga telah menciptakan jam kronograf berkualitas tinggi yang tersedia secara eksklusif untuk pengemudi yang membeli kendaraan edisi kolektor. Jam tangan ini menangkap banyak detail dengan mulus dari desain 911 Sport Classic yang baru. Sebagai bagian dari paket Heritage Design Classic, elemen interior terpilih dari 911 Sport Classic baru juga akan tersedia untuk sebagian besar model 911 saat ini.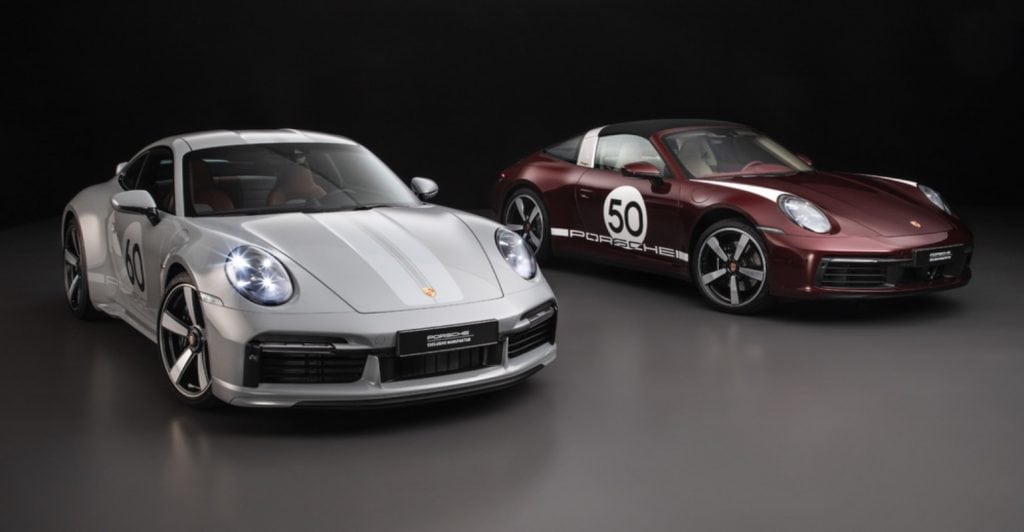 Tafsiran ulang elemen desain penuh kenangan
Body lebar – jika tidak disediakan untuk model 911 Turbo – spoiler belakang tetap bergaya 'ducktail' Carrera RS 2.7 yang legendaris dan atap double-bubble meng-garisbawahi kekhasan 911 Sport Classic yang baru. Seperti halnya 911 Sport Classic generasi 997 pertama yang diluncurkan pada tahun 2009, para desainer terinspirasi oleh paintwork Fashion Grey dari Porsche 356 awal saat memilih lapisan cat eksklusif untuk model edisi terbatas yang baru. "911 Sport Classic baru adalah kendaraan pertama yang menampilkan cat Sport Grey Metallic," ujar Michael Mauer, Vice President Style Porsche. "Abu-abu tidak pernah membosankan, cukup sering menjadi warna statement dan selalu keren." Sebagai alternatif dari sentuhan akhir Sport Grey Metallic yang eksklusif, 911 Sport Classic yang baru juga tersedia dalam warna Solid Black, Agate Grey Metallic, Gentian Blue Metallic atau Paint to Sample. 3 garis-garis kembar dicat pada kap mesin, atap, dan spoiler belakang berwarna Sports warna abu-abu menonjolkan desain mobil yang sporty. Pada bagian interior, pola Pepita yang ikonik dapat ditemukan di panel pintu dan bagian tengah jok, sementara jok kulit two-tone semi-anilin dalam Black/Classic Cognac memberikan kontras yang elegan dengan warna eksterior.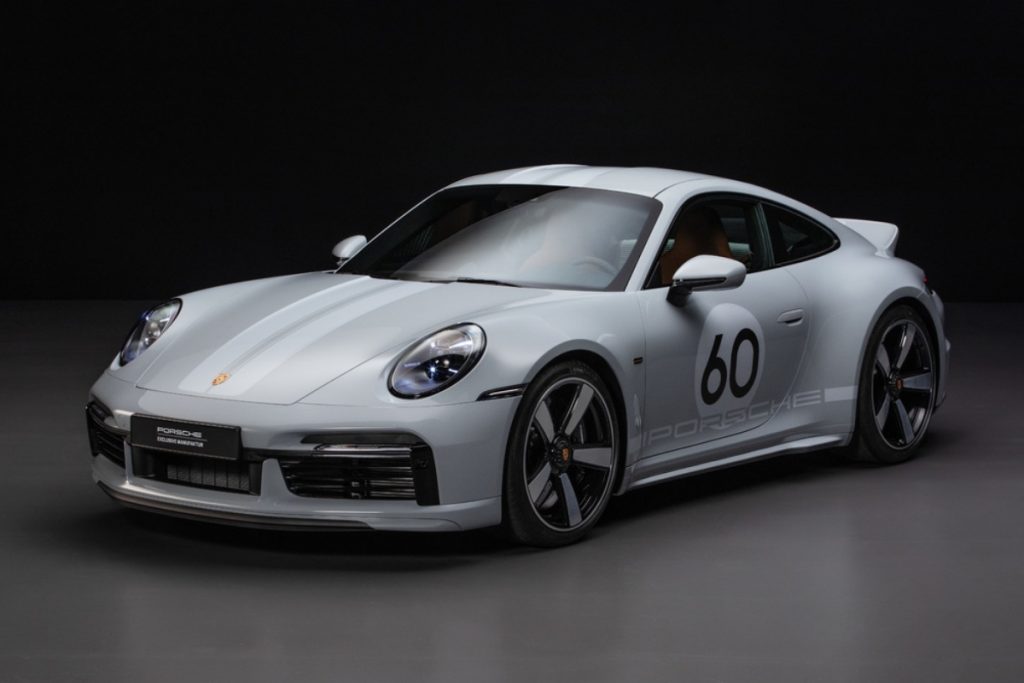 550 PS untuk 911 manual paling bertenaga
Konsep powertrain sama uniknya: mesin flat-six 3.7 liter twin-turbo mentransmisikan 405 kW (550 PS) melalui roda belakang saja. Dikombinasikan dengan gearbox manual tujuh kecepatan, 911 Sport Classic yang baru adalah 911 manual paling bertenaga yang tersedia saat ini. Gearbox memiliki fungsi auto-blip yang mengkompensasi perbedaan kecepatan engine antara gigi dengan putaran singkat saat perpindahan gigi ke bawah. Sistem knalpot sport standar secara khusus disesuaikan dengan model untuk pengalaman suara yang lebih emosional. Suspensi, berdasarkan model 911 Turbo dan 911 GTS, memenuhi persyaratan kinerja tinggi: berkat Porsche Active Suspension Management (PASM) standar, peredam kejutnya merespons perubahan dinamis dengan kecepatan kilat. PASM dikombinasikan sebagai standar dengan suspensi sport, yang memiliki ketinggian berkendara 10 milimeter lebih rendah. Data konsumsi bahan bakar dan emisi CO2 ditentukan sesuai dengan prosedur pengukuran WLTP yang baru. Untuk saat ini, nilai NEDC yang diperoleh dari prosedur pengukuran baru ini masih harus ditentukan. Nilai-nilai ini tidak sebanding dengan nilai-nilai yang ditentukan sesuai dengan prosedur pengukuran NEDC sebelumnya.