Kalau Anda di Roma, coba sempatkan datang ke pameran dari rumah perhiasan BVLGARI. Pameran berjudul 'The Story, The Dream' berlangsung di dua tempat di Polo Museale del Lazio, yaitu di Palazzo Venezia dan di Castel Sant'Angelo, mulai dari 26 Juni hingga 3 November 2019. Pameran mengurai sejarah lahirnya Bvlgari sebagai contoh sukses perusahaan 'made in Itlay' yang bertransisi dari perusahan keluarga hingga menjelma menjadi global luxury brand.
Narasi dibangun dari Sotirio Bulgari, seorang pengrajin perhiasan perak yang merantau dari Yunani dan tiba di Roma tahun 1884. Sotirio membuka butik perhiasan di Via Condotti no. 10 di tahun 1905, butik yang menjadi ikonik bagi kota Roma hingga saat ini. Sejumlah foto-foto, video, dan perhiasan Bvlgari yang belum pernah ditampilkan ke publik, di pajang di pameran ini. benda-benda ini mencerminkan perjalanan milestone Bvlgari yang sudah melewati usia seratus tahun, persilangan antara eksistensi perhiasan dengan gaun-gaun haute couture, dan bintang-bintang klasik seperti Elizabeth Taylor, Gina Lollobrigida, Veruschka, Marlene Dietrich, Audrey Hepburn, Ingrid Bergman, hingga Julia Roberts.
Di Palazzo Venezia, pameran ditampilkan di dalam ruang-ruang yang berkaitan dengan dekade demi dekade perjalanan Bvlgari. Arsip-arsip yang menceritakan klien-klien awal Bvlgari seperti para aristocrat dan turis kaya raya tersaji di sini. Setelah PD II, dua putra Sotirio, yaitu Costantino dan Giorgio mengubah arah Bvlgari menjadi lebih mewah, glamor, dan kontemporer. Mereka menggali kultur Italian Renaissance dan Greco-Roman Classicism sebagai inspirasi.
Kemudia pengunjung diarahakan ke Castel Sat'Angelo, yang menampilkan paparan bagaimana Bvlgari mampu menjadi pionir dalam usaha perhiasan di Italia dan global. Disajikan juga hal-hal seperti DNA jenama Bvlgari, arahan creative, dan satu ruangan yang didedikasikan khusus utuk 'Hollywood and the Tiber', yang menggambarkan bagaiman industri film Amerika bergemerlapan dengan Bvlgari.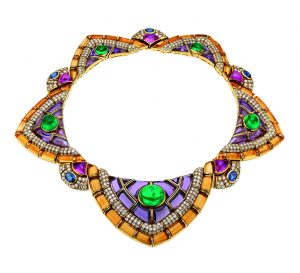 Foto: Bvlgari