Tulisan tangan, LOUIS VUITTON, berwarna merah dengan huruf capital, menarik perhatian mata. Tulisan tersebut di cetak di atas sutra berwarna hijau salem yang mengandung samara monogram Louis Vuitton di dalamnya. Karya seni ini menjadi salah satu dari sebelas karya seni Jonas Wood untuk Louis Vuitton. Gaya visual Jonas tergolong modern pop art, bernafaskan gaya Henry Matisse dan keceriaan David Hockney, namun karya Jonas lebih mendekat ke realitas dan relevan dengan keseharian. Kerap terdapat gambar bola basket dan in house plant di dalam karya Jonas, elemen yang memberi kesan rumahan dan kehidupan di dalam rumah. Semangat seni rupa Jonas Wood ini dilibatkan Louis Vuitton ke dalam tradisi kolaborasi seni di atas sutra antara Louis Vuitton dengan seniman dalam menciptakan koleksi tekstil Louis Vuitton. Seniman lain yang karyanya sudah tercetak di atas kehalusan silk carré Louis Vuitton adalah Alex Israel, Sol LeWitt, James Rosenquist, Eko Nugroho, Andrée Putman, Takashi Murakami, Richard Prince, Stephen Sprouse dan Yayoi Kusama.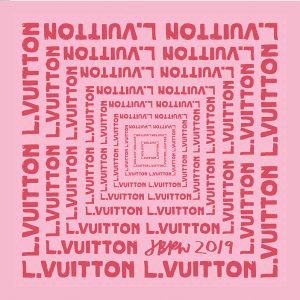 Tumbuh Di Antara Karya Seni
Jonas Wood lahir di Boston, Amerika Serikat, dibesarkan di rumah kakeknya, seorang kolektor seni. Di masa pertumbuhan, Jonas sudah terbiasa dikelilingi karya-karya seniman besar semacam Francis Bacon, Alexander Calder, Jim Dine, Robert Motherwell, Larry Rivers, dan Andy Warhol. Lingkungan yang membawa jalan hidup lurus ke area seni. Tahun 1999 Jonas mendapat titel BA dari Hobart and William Smith Colleges, New York jurusan Psycology bidang studi Studio Art. Tahun 2002 ia lulus dengan gelas MFA dari University of Washington dalam jurusan Painting & Drawing. Dalam masa-masa menuntut ilmu seni, Jonas bereksplorasi dengan kesenangannya pada teknik collage dari objek-objek fotografi dirinya sendiri dan lingkungannya.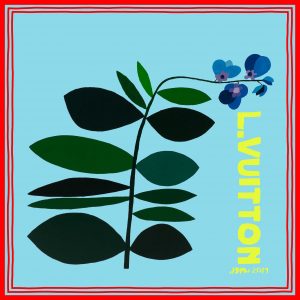 Seni Dari Pendidikan
Setelah menjadi sarjana, Jonas pindah ke Los Angeles, menikah dengan seniman Shio Kusaka, sembari bekerja beberapa tahun untuk pelukis Laura Owens. Jonas pertama kali mendapat kesempatan berpameran solo di Hammer Museum, di Los Angeles tahun 2010. Pameran ini mulai mengangkat nama Jonas, gaya seninya yang selalu kuat dengan blok warna mulai tertoreh di sana-sini, misalnya karya mural berjudul Shelf Still Life (2014) di High Line, New York, mural di dinding LAXART (2014) Los Angeles, dan Still Life with Two Owls (2016) di Museum of Contemporary Art, Los Angeles.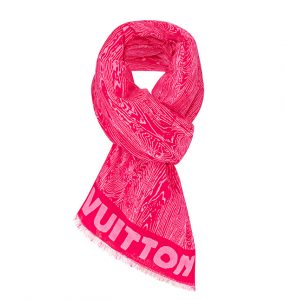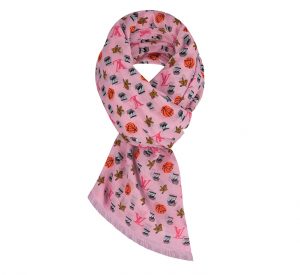 Ratakan Ke 2 Dimensi
Karya Jonas tak lepas dari kegemarannya menyerap referensi sejarah seni, lalu ia silangkan dengan apa yang ia lihat sehari-hari, baik itu objek di lingkungannya hingga interaksi sosialnya dengan keluarga dan teman-teman. Lalu semua pengalaman di dunian 3 dimensi tersebut, ia ratakan menjadi dua dimensi dalam pilihan warna-warna terang yang riang. Kolaborasi Louis Vuitton x Jonas Wood menghadirkan silk scarf dan shawl (bertanda tangan Jonas Wood) untuk musim Fall/Winter 2019, diluncurkan di New York awal bulan September 2019, dan sekarang sudah tersedia di butik-butik Louis Vuitton di seluruh dunia.
You could call [my work] a visual diary or even a personal history. I'm not going to paint something that doesn't have anything to do with me. Of all of the possible things I could paint, the thing that interests me is something that I can get close enough to in order to paint it honestly. 
—Jonas Wood
Foto: Louis Vuitton, @Jonasbrwood