Roland Mouret tenar dengan rancangan Galaxy dress, berupa sheath dress dengan bagian lengan model flutter pendek yang menutup sedikit pangkal bahu. Gaun ini ditenarkan oleh Demi Moore, Dita Von Teese, dan Halle Berry. Killer dress. Roland tidak berendam dalam kesuksesan signature nya tersebut, ia kini lebih membuka mata, melihat masalah di bumi saat ini, dari mulai ethical fashion, climate change, environmental turbulence. Ia berpikir lebih dalam tentang value kehidupan, tetap produktif namun tidak terjebak memproduksi produk sehingga berpotensi menyampah. "Our creativity adds so much to the problem of climate change crisis," ujar Roland ke WWD. Dari isu tersebut, bagaimana Roland Mouret spring 2020 London Fashion Week ini?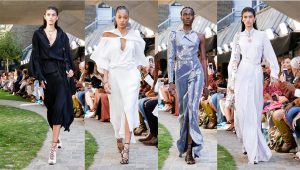 Kelembutan Hidup
Pemikiran Roland tersebut membuatnya berusaha menciptakan kenyamanan dalam berpakaian sehingga pakaian bisa dipakai lebih lama tanpa harus terjebak trend. Kalau Galaxy dress menuntut pemakainya berbadan prima dan berposisi tegak sempurna, maka untuk koleksi spring 2020 kali ini Roland membuat pemakai rancangangannya lebih individual, santai, tanpa harus berlebihan menata postur badan ketika berdiri. Roland memilih warna-warna sorbet yang lembut, kalem. Rancangan dibuat dengan soft tailoring khas tahun 80an, bahu lebar namun soft sehingga tidak tegang kaku. Kemewahan yang tak boleh ditinggalkan, diakali dengan bahan sequin berwarna baby. Kemeja-kemeja dibuat sangat nyaman sampai-sampai bisa melorot one-shoulder. Outer wear seperti blazer dan long coat dibuat lembut, memberi perasaan relax.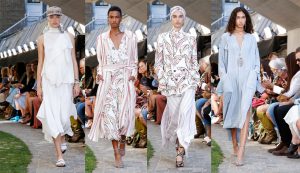 Inisiatif Daur Ulang
Sebagai inisiatif, Roland bekerja sama dengan Arch & Hook, perusahaan produsen gantungan baju yang membuat gantungan terbuat dari 100% daur ulang dan 80% berunsur dari sampah plastik lautan. Arch & Hook membuat circular hanger yang bisa dipakai lebih lama, bukan hanger satuan yang sering kali akhirnya dibuang sembarangan.
Foto: Regis Colin for NOWFASHION