Desainer yacht, Timur Bozca, memamerkan karya terbarunya di Dubai International Boat Show (DIBS) 2019, yang diberi nama Esquel Expedition Yacht. Kreasi Timur kali ini membuat jatuh hati komunitas pemilik yacht karena bentuk yang elegan dan modern design. Esquel bertenaga diesel-electric dengan ukuran panjang 105 meter. Terbuat dari kombinasi bahan solid metal dan translucent crystal, juga meteorite bernama Esquel, meteorite yang ditemukann di sekitar kota Esquel di kawasan Patagonia di sebelah barat laut profinsi Chubut di Argentina.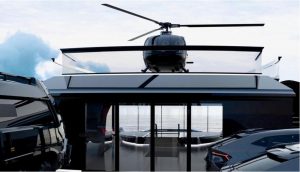 Tak Bisa Menembus Angkasa
"Esquel terinspira dari roket ruang angkasa," ujar Timur. "Esquel simbol dari multi-purpose super yacht yang revoluisoner. Penggabungan yang mantap dari expedition vessel dan sophisticated superyacht, kombinasi pure luxury dan kenyamanan, high-tech dan chic. Memang Esquel tidak bisa menembus angkasa, tapi Esquel mampu sudut-sudut terpencil bumi, melaju di Mediterrranean atau membelah laut beku di Arctic Circle."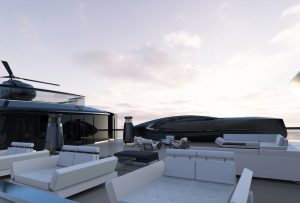 Bahan Baku Meteor
Untuk pembuatan Esquel ini, Timur berkolaborasi dengan Oceanco, produsen custom yacht yang dikenal dengan kebiasaan membawa state-of-the-art. Oceanco pernah mearih penghargaan Design & Innovation Awards 2019, Judges' Commendation Award for Best Technical Achievement, Best Navan Architecture for Sailing Yachts, dan penghargaan tertinggi World Superyacht Awards 2019. Sementara Timur Bozca sendiri pernah meraih Young Designer of the Year di tahun 2015.
Pecahkan Laut Es
Kemampuan Esquel patut diperbincangkan, ia bisa memecah lautan es, berkecepatan tertinggi 16,5 knots, dengan jangkauan jelajah 7000 mil laut di kecepatan 13 knots, di kawasan equatorial atau di kawasan kutub. Terdapat 230 meter per segi tender garage, dilengkapi dengan fast rib boats, watersports toys dan perlengkapan selam. Deck utama seluas 200 meter persegi, deck terbuka dengan superstructure kaca yang menangkup pool dan wellness area di dalamnya. Esquel mampu mengangkut 2 submarines, satu kendaraan darat, motor off-road, dan satu helicopter. Juga terdapat laboratorium kecil untuk menelaah hal-hal yang terkait dengan tempat yang dikunjungi dan bereksplorasi.
Foto: Timur Bozca Design