Peggy Hartanto mengisi Paris Fashion Week bulan September lalu dengan menyertakan satu koleksi rancangan yang minimalis di ajang trade show di The Bridge show room, 108 rue Vieille du Temple, Paris. Suasana ruang pameran tampak modern dan bersih, kontras dengan eksterior kawasan Paris 3rd arrondissement.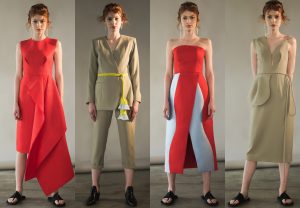 Peggy menyertakan 57 rancangan bertema Pandora, satu area tempat gunung-gunung mengambang, dan semak belukar bioluminescent menyemak di exoplanetary moon, di dalam kisah The World of Avatar karya James Cameron. Ide dari film science fiction ini ditaklukkan Peggy ke dalam signature rancangannya yang minimalis.
Satu detail yang mudah dan efektif adalah floral belt yang diciptakan Peggy, berupa  seutas tali sederhana bersimpul acak, dengan kembang unik di kedua ujung tali. Idenya dari antenna direhorse, kuda tangguh di film Avatar. Ikat pinggang ini menghiasi pinggang dengan elok, memberi kesan ramping dan feminine di dalam rancangan Peggy yang modern dan tegas.
Sebelum berangkat ke Paris, tim Peggy membutuhkan waktu dua bulan untuk pemilihan kain, dan satu bulan untuk sampling. Pihak The Bridge tidak mengkurasi koleksi Peggy Hartanto ini, karena Peggy sudah mendapatkan kepercayaan penuh. Ini adalah kesempatan kedua Peggy berada dalam sajian The Bridge, bersama agensi fashion ini sebelumnya Peggy sudah mendapatkan buyer dari Kwait dan Doha. Harga retail yang disiapkan Peggy untuk setiap rancangannya dimulai dari 200 US$ hingga 400 US$.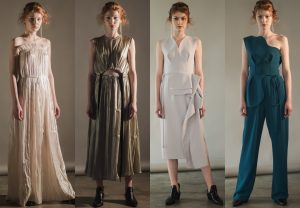 Ada yang baru dalam koleksi Peggy kali ini, hal yang belum pernah hadir di dalam rancangan Peggy selama ini.
"Kami mencoba seri resort, dari client kami lihat kalau mereka bukan saja membutuhkan pakaian party yang formal, yang berada di dalam gedung. Mereka juga perlu pakaian untuk party di outdoor, yang sekarang semakin banyak berlangsung di Bali atau di luar negeri," ujar Peggy kepada Luxina di showroom The Bridge.
Untuk langkah promosi, Peggy Hartanto memilih Amerika Serikat sebagai tempat aktivitas PR, sedangkat pasar yang dibidik tetap di Indonesia dan Timur Tengah. Selain Peggy Hartanto, ada 23 desainer lain dari berbagai negara yang ikut serta di dalam showroom The Bridge ini, salah satunya adalah label TOTON dari Jakarta.
Foto: Rambo Ghozali & dok. Peggy Hartanto