Koleksi Dior Cruise 2020 tiba di Jakarta, dipresentasikan di depan undangan khusus di butik Dior di Plaza Indonesia. Rasa hati begitu terpana melihat koleksi ini, bukan saja karena mereka dikerjakan dengan rapi, stylish, relevan dengan jaman, namun karena sengaja tak sengaja koleksi Dior Cruise 2020 ini mengandung cerita yang begitu dalam, ia membukakan mata pada satu perjalanan budaya yang sangat panjang, drama, perjuangan, adventure, conquering the world, hingga berakhir di dalam pelukan Dior the luxury brand. Koleksi ini berbasis bahan katun berteknik wax print, atau cetak lilin, alias Batik. Maria Grazia Chiuri, Dior Creative Director, merangkul produsen wax print bernama Uniwax yang berbasis di Abidjan, Pantai Gading, Afrika Barat. Uniwax anak perusahaan Vlisco, yang didirikan tahun 1844 di Helmond, Belanda, oleh Pieter Fentener Van Vlissingen (seorang banker yang memiliki rumah di Helmond dan Batavia).
Dari Jawa Ke Afrika Barat
Pada jaman penjajahan banyak kapal-kapal Belanda yang berlayar dari Indonesia (East Indies) menuju Rotterdam, beristirahat di negeri-negeri Afrika Barat, sehingga di abad ke 19 tersebut sudah banyak penumpang, orang-orang Jawa, ikut mampir dan berdagang Batik di Afrika Barat. Brigid Keenan, istri Duta Besar Inggris untuk Gambia di tahun 1960an, menulis pada buku memoirnya yang berjudul 'Diplomatic Baggage', bahwa ia belajar membatik dengan seorang pedagang Batik bernama Joko di Banjul, ibukota Gambia. Orang-orang Jawa lewat jalur pelayaran kolonial sudah mempopularkan Batik di Afrika Barat, sehingga dengan mudah Pieter Fentener Van Vlissingen dengan perusahaan tekstilnya yang berbasis di Helmond membuka cabang-cabang pemasaran di Benin, Burkina Faso, Congo, Ghana, Pantai Gading, Nigeria, dan Togo.
Tanggung Jawab Platform Besar
Maria Grazia Chiuri menemukan wax print dari Anne Grosfilley, seorang antropolog bidang fashion dan tekstil Afrika, yang akhirnya memperkuat tim kreatif Dior. Penerbit buku Penguin pernah menerbitkan buku karya Anne berjudul African Wax Print Textiles. "Teknik ini unbelievable, sungguh cara yang couture untuk membuat motif di atas kain. It's double-faced." ujar Maria kepada WWD, "Memang ada anggapan bahwa katun bukanlah kain mahal, apalagi katun yang datang dari Afrika. Kalian tidak berpikir bahwa sebenarnya teknik motifnya lah yang begitu high-level." Ujar Maria mengaskan bahwa kinerja pada selembar kain adalah penentu value dari hasil akhir sepotong rancangan. Maria juga mengatakan bahwa jika tidak ada jenama yang punya cita-cita dan platform yang besar untuk mempromosikan produk-produk tertentu, maka produk tersebut sangat beresiko punah, "…but I think it's our responsibility. That's part of what it means to be a couture brand: to maintain this kind of tradition," ujar Chiuri.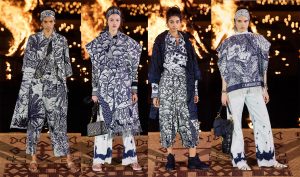 Sebarkan Ke Seluruh Dunia
Sebelum disebarkan ke semua butik Dior di seluruh dunia, Dior Cruise 2020 ini dipresentasikan di El Badi Palace, di Marrakech, Maroko bulan April 2019 lalu. Kota ini punya jalinan cerita yang lekat dengan Dior, terutama ketika Creative Director Dior tahun 1960, Yves Saint Laurent, menciptakan coat kaftan khas Marrakech untuk Dior. Koleksinya sendiri menampilkan gaya berpakaian yang feminine boyish khas Maria Grazia Chiuri, seperti suits, jumpsuits, frock, poncho, frocks, oversized anorak, dan ballgown. Motif wax print berupa pepohonan rimbun hingg apisang-pisangan, ular, monyet, singa, aneka mitos unggas, dan angka-angka dari elemen tarot. Koleksi ready-to-wear yang dipajang sederhana apa adanya di Dior Plaza Indonesia ini sungguh sangat bermakna bagi siapa saja yang menghargai budaya, sejarah, realita, dan selalu berusaha in fashion.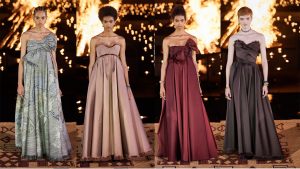 Foto: Filippo Fior / Gorunway.com