Justin Timberlake, mengawali tahun 2018 ini dengan merilis dua single baru. Yang kemudian diikuti dengan penampilannya di Superbowl besok, 4 Februari 2018 di Minneapolis, Amerika Serikat atau 5 Februari 2018 pagi waktu Indonesia.
Namun sebelum kita menyaksikan penampilan Justin Timberlake besok, mungkin ada baiknya kami memberikan sedikit evolusi gaya penampilan Justin Timberlake yang sudah memulai karir dari tahun 1992 ini. Evolusi gaya ini menunjukan bahwa Justin Timberlake benar-benar menyadari penampilan adalah hal yang paling penting dari pembentukan citra diri. Dan Justin berhasil membuat sebuah arahan baru untuk penyanyi hip hop dan R&B dalam berpenampilan dengan suit & tie yang jauh dari kesan blink-blink dan street fashion.
Group boyband Nsync adalah yang membesarkan nama Justin Timberlake di jagad musik Hollywood dan dunia. Sebelumnya Justin juga merupakan salah satu pemeran di The All New Mickey Mouse Club dan pernah mengikuti ajang Star Search di Los Angeles. Ini adalah era Justin Timberlake sebelum mengenal desainer dan belum tersentuh oleh fashion stylist dan editor dari majalah GQ.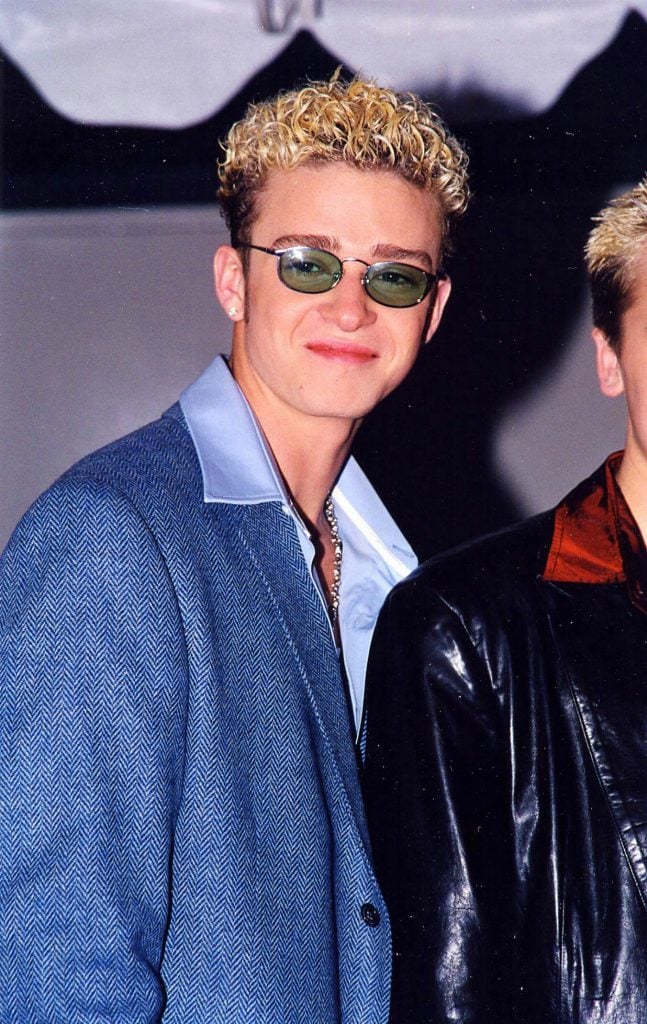 Ini masih di era boyband Nsync. Sekitar tahun 1993 -1994. Dengan jaket motif herringbone yang berukuran besar dan kerah kemeja yang di lipat menutup kerah jas. Rambut? Mungkin lebih baik dari foto sebelumnya. Kacamata? Ini adalah kacamata yang sangat trendi saat itu.
Bila jaman now ada pasangan Justin Bieber dan Selena Gomez yang mengguncang dunia maya dan sosial media, Justin Timberlake dulu juga melakukan hal yang sama. Justin sempat berpacaran dengan Britney Spears beberapa lama dan tampil di berbagai acara dengan kostum yang sama. Seperti pada foto diatas ini, mereka berdua kompak memakai stelan denim biru muda ke acara American Music Award pada tahun 2001.
Ini adalah penampilan Justin Timberlake si MTV VMA pada tahun 2002. Stelan jas masih kebesaran dengan celana yang kepanjangan serta kemeja satin yang mengilap dan dipasangkan dengan sneakers chungky. Penampilan Justin mulai berubah namun belum terpoles dengan baik. Namun setelah ini, topi vedora mulai kembali menjadi tren buat pria di seluruh dunia pada saat itu.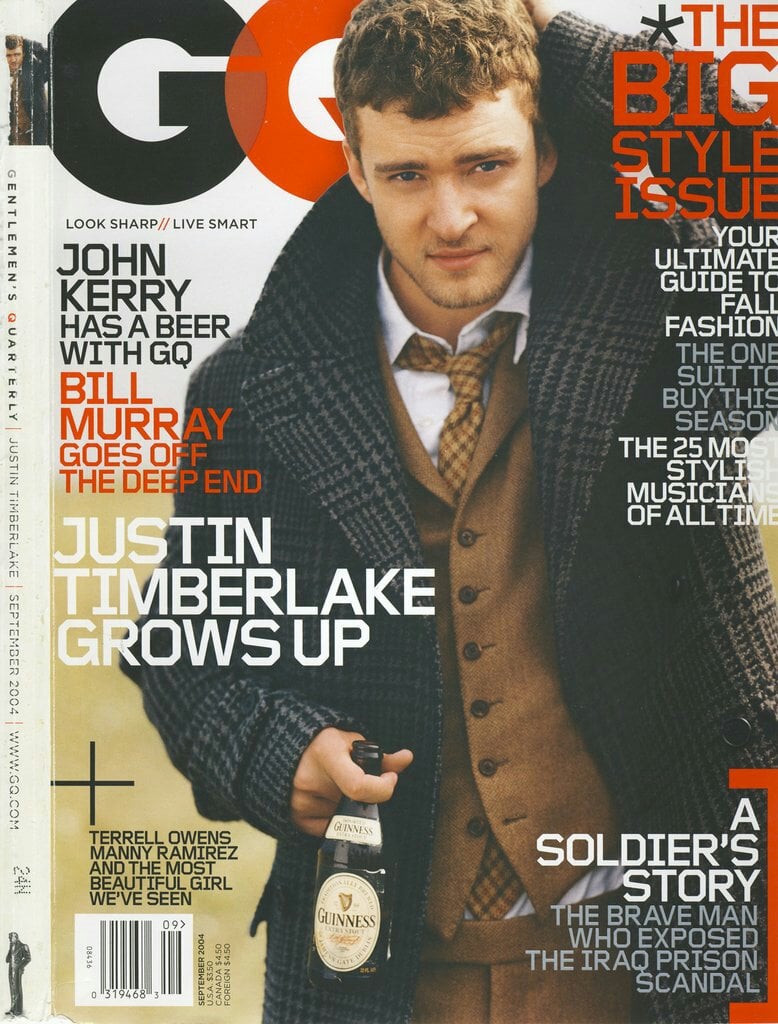 Ini adalah cover majalah GQ edisi Amerika pertama untuk Justin Timberlake. Di edisi September 2004 ini, yang merupakan edisi fashion, Justin di make over secara total hingga terlihat "GQ" dan matang dalam urusan penampilan. Bisa dikatakan setelah cover GQ ini, penampilan Justin baik saat diatas panggung hingga sehari-hari berubah total. Thanks to GQ fashion stylist and editor.
Di MTV VMA 2006 Justin Timberlake muncul memakai stelan jas tiga potong berwarna abu-abu dengan model celana gombrong dan kemeja kerja motif kotak-kotak kecil. Tampilan memperlihatkan seorang Justin Timberlake yang cukup dewasa namun belum memancarkan cahaya "kebintangannya" dibalik celana gombrong tersebut.
Singkat cerita, pada tahun 2013 Justin merilis album ke 3 yang berjudul The 20/ 20 Experience dengan single andalan Suit and Tie. Dalam video klip lagu ini, Justin mendapat bantuan sentuhan "magic" dari desainer ternama yang pernah menjabat sebagai direktur kreatif Gucci, Tom Ford. Tom Ford memoles Justin Timberlake menjadi persona megabintang papan atas dan berkelas.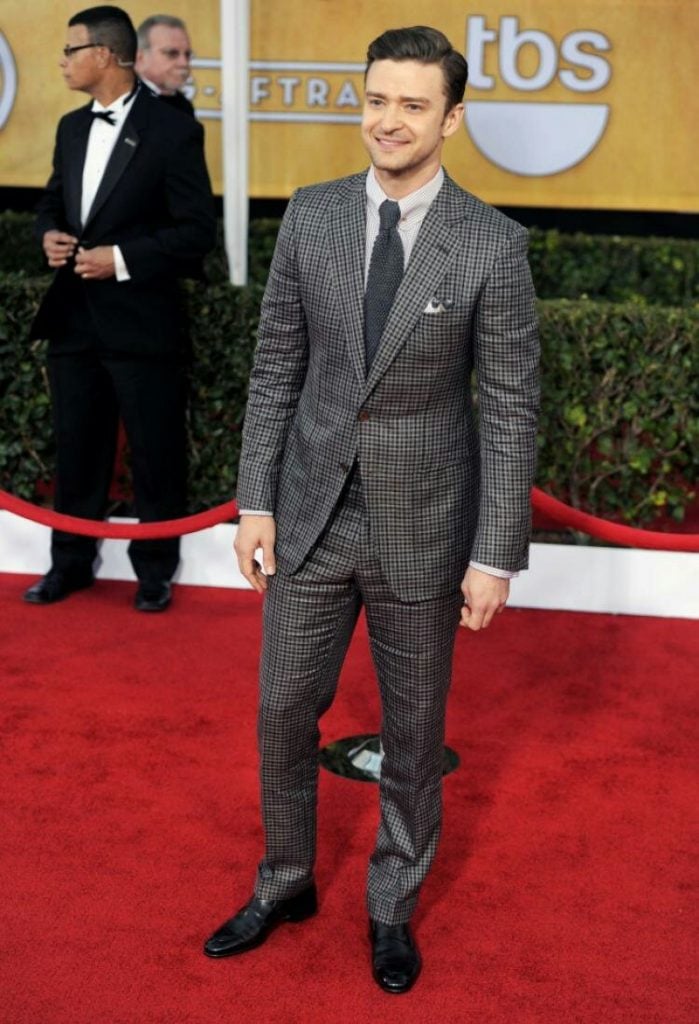 Di karpet merah-pun Justin kemudian selalu menjadi pemakai setia Tom Ford. Seperti pada foto diatas, stelan jas kotak-kotak berkancing dua dengan peak lapel yang klasik yang dipakainya pada SAG Awards 2013.
Ini adalah penampilan Justin Timberlake di Academy Awards 2017 tahun lalu. Stelan jas bespoke dari, tentu saja, Tom Ford, ini terlihat pas dipakai oleh Justin. Panjang celana yang tidak berlebihan sangat pas hingga memberi kesempatan kepada lebih terlihat. Ujung lengan jas yang juga memperlihatkan ujung lengan kemeja putih keluar dalam ukuran yang sesuai. Pocket square dan dasi kupu-kupu juga terlihat klasik tanpa elemen berlebihan.
Evolusi penampilan seorang Justin Timberlake, mega bintang kelas dunia, selain ia dipegang di tangan yang benar, Justin juga mengerti arti penampilan dan fashion yang berhubungan dengan citra diri. Dan ia mampu membuat karakter tersebut menjadi dirinya tanpa harus terlihat mengikut gaya orang lain.
Dan seperti tahun-tahun sebelumnya, setiap penyanyi yang tampil di Superbowl, ada seorang desainer dan fashion stylist di belakang penampilan tersebut. Apakah yang akan dikenakan Justin Timberlake pada Superbowl tahun ini?
Foto: Getty Images, shutter stock, istimewa.