Tentu di masa lalu belum terbayangkan bagaimana perilaku suami-suami di kota besar saat ini, saat informasi sangat mudah di dapat, saat orang-orang dengan mudah mengakses Paris Fashion Week. Potret suami-suami kota besar ini coba diangkat oleh MVP Entertainment bersama Vidio Original Series dalam bentuk drama komedi yang ditayangkan eksklusif di platform Vidio. Tingkah polah para suami ini bagai potret nyata apa yang terjadi di sekitar kita saat ini, lelaki-lelaki yang gampang tergoda, berpenampilan chic dan sporty up to date, yang memang layak uuntuk digoda. Judulnya, Suami-Suami Masa Kini dibawakan dengan paten oleh bintang-bintang good looking. Ada Ringgo Agus Rahman sebagai Yuda Pradana, Tanta Ginting sebagai Faisal Setiawan, Tarra Budiman sebagai Tobi Lesmana dan Marcel Darwin sebagai Raka Bumi. Mereka bersahabat sejak SMA hingga di usia menjelang 40 saat ini. Yuda, Faisal dan Raka telah menyandang status sebagai suami orang dengan 1001 cerita lika liku rumah tangga, sementara Tobi masih berstatus lajang dan sangat menikmati kehidupan lajangnya dengan berbagai wanita silih berganti mengisi kisah cintanya.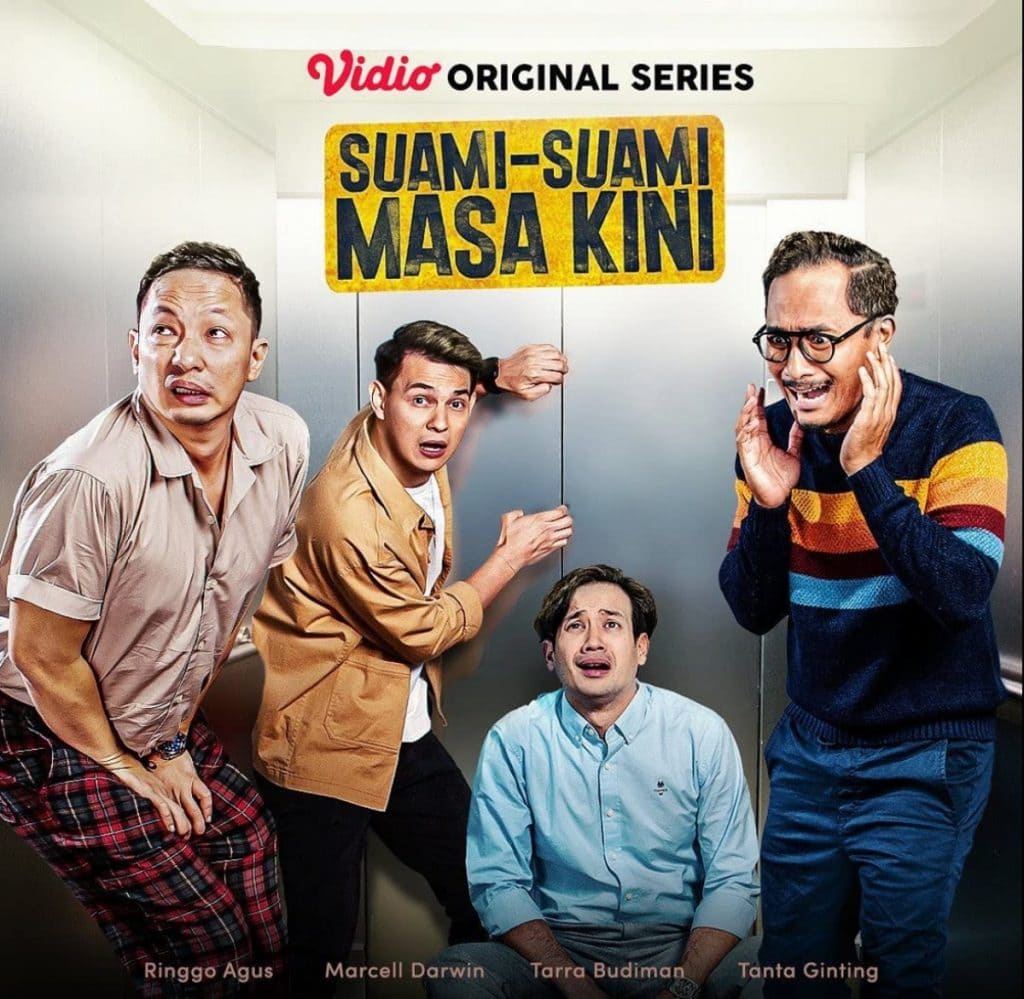 Suami-suami Rebecca Tamara, Karina Suwandi, dan Chantiq Schageri
Suami-Suami Masa Kini, menceritakan tentang empat pria dewasa dengan drama kehidupan rumah tangga masing-masing. Tiga orang di antara mereka yang sudah menyandang status suami dan satu masih melajang. Series ini ditulis oleh Imam Darto, komedian yang juga dikenal sebagai aktor, penulis skenario, pembawa acara dan penyiar radio. Yuda menikah dengan Rumi yang diperankan oleh Aulia Sarah pada usia 25 tahun. Kehidupan pernikahan Yuda dan Rumi merupakan pernikahan idaman dimana pasangan ini masih menikmati hangout berdua atau party bersama. Lain halnya dengan pernikahan Faisal dan Indri yang diperankan oleh Rebecca Tamara, dengan kehidupan pernikahannya yang sangat "normal," aman tenteram dan jauh dari konflik. Raka pun tidak kalah beruntung, karena menikahi seorang janda kaya raya namun masih mempesona Tania Suroprodjo yang diperankan oleh Karina Suwandi. Dari pernikahannya terdahulu, Tania memiliki seorang anak perempuan cantik yang telah berusia 20 tahun bernama Angel yang diperankan oleh Chantiq Schageri.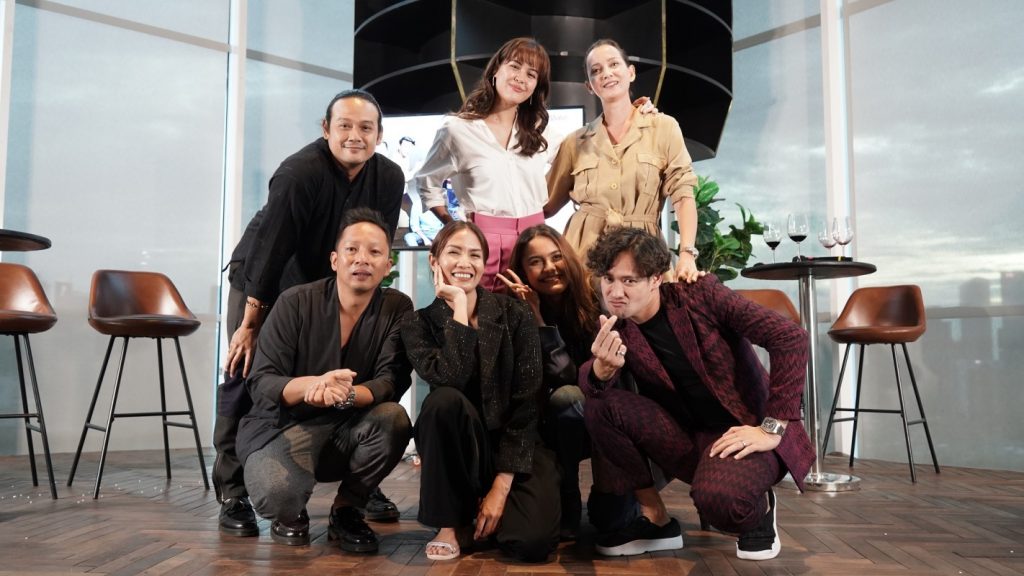 Terjebak dalam boys night out
Di suatu malam pada saat boys night out, empat orang sahabat ini terjebak di dalam lift yang macet. Empat jam kemudian dan setelah ratusan teriakan minta tolong, mereka masih terjebak sehingga malam itu berubah menjadi curhat night di kotak berukuran 3×3 meter persegi tersebut. Satu per satu mulai mengakui kondisi rumah tangga mereka sebenarnya. Apa yang sebenarnya terjadi dan ada di dalam hati dan pikiran para suami masa kini ini? Simak pesan khusus dari Imam Darto sang penulis cerita Suami-Suami Masa Kini: "Wahai para suami, dijamin kalian akan melihat diri kalian di salah satu dari empat tokoh suami ini. Yuk, ketawain diri sendiri lewat mereka. Buat para istri, tenang saja kalau kalian mau menjambak, mencubit atau menampar suami-suami ini karena masih bisa diwakilkan oleh istri-istri di series Suami-Suami Masa Kini. Biar saja mereka yang ribut rumah tangganya, para istri tenang-tenang saja nonton ini di rumah."
Sajian Raam Punjabi yang akrab dengan masyarakat Indonesia
Tina Arwin selaku Chief of Content Officer Vidio menambahkan "Series Suami-Suami Masa Kini (SSMK) ini merupakan salah satu series komedi pertama Vidio yang menghadirkan tema persahabatan dan keluarga. Kekuatan SSMK diharapkan Vidio dapat menggaet penonton pria, khususnya yang sudah dewasa dan berkeluarga, hingga mereka bisa merasa relate dengan cerita ini." ujar Tina. Produser dan Presiden Multivision Plus, Raam Punjabi menambahkan, "Masyarakat Indonesia pasti sudah sangat mengenal serial komedi situasi produksi Multivision Plus yang sukses tayang selama tiga tahun sejak 2007 yaitu Suami-Suami Takut Istri, dan sukses juga di versi layar lebarnya. MVP telah terkenal dalam memproduksi program variatif untuk penggemar serial televisi di Indonesia, dan kerjasama kali ini dengan Vidio, MVP menyajikan originalseries bersama Vidio dengan genre komedi segar Suami-Suami Masa Kini yang terinspirasi dari kejadian sehari-hari di kalangan masyarakat elit Indonesia. Sambil menikmati dan tertawa terbahak-bahak, SSMK juga akan mengajak penonton untuk merenungkan apa yang terbaik yang dicontohkan dari empat karakter suami-suami masa kini. Para tokoh SSMK diperankan oleh aktor-aktor kawakan dan penuh talenta bersama pemeran wanita yang juga tidak kalah bertalenta yang memerankan para istri di SSMK. Selamat tertawa terbahak-bahak! jangan lupa untuk memetik hikmah yang ingin kami sampaikan melalui original series ini."
Suami-Suami Masa Kini akan tayang di Vidio mulai 9 Maret 2022. Di hari penayangan, penonton bisa langsung menyaksikan 3 episode pertama. Episode pertama dan kedua bisa ditonton gratis. Episode baru akan tayang setiap Rabu dan Minggu pukul 00.00 WIB dengan total 13 episode.