Awal bulan November kabar duka fashion datang dari New York, desainer Zac Posen mengumumkan bahwa ia menutup label atas namanya sendiri. Hal yang cukup haru, mengingat betapa nama Zac sangat dihormati sebagai couturier Amerika, rancangan-rancangannya tenar di atas red carpet, dikenakan oleh bintang-bintang seperti Rihanna, Katie Holmes, Natalie Portman, Reese Witherspoon, Gwyneth Paltrow, Claire Danes, dan Uma Thurman, bersanding dengan gaun-gaun yang didominasi oleh label-label Perancis yang semakin digjaya. Apa yang terjadi? Sebegitu sulitkah bertahan dengan ketenaran yang sudah dicapai? Atau memang orang New York, tempat tinggal Zac, tidak memerlukan gaun-gaun yang dibuat Zac, jarang ada pesta pernikahan besar-besaran seperti di Jakarta, sehingga tidak ada permintaan gaun apa lagi repeat order. Sementara para artis di atas juga tidak membayar uang kepada Zac, hanya barter promo, dan Zac yang kebagian keluar uang untuk membuat gaun.
Ayo Ke Jakarta
Menurut data dari theweddingreport.com kota New York dengan populasi hampir 9 juta penduduk, tercatat hanya sekitar 1,5 % atau 137.843 pernikahan saja di tahun 2018. Setiap pernikahan tersebut rata-rata menghabiskan dana US$ 34.135 (bandingkan dengan 1 gaun Zac Posen sedikitnya seharga US$ 1500). Menurut tripsavvy.com rata-rata setiap pernikahan di Amerika dihadiri 136 orang tamu. Menurut lyst.com, hanya 26% dari tamu-tamu tersebut yang berbelanja gaun baru untuk hadir di pesta pernikahan. Semakin menipis saja keinginan warga Amerika membeli gaun-gaun couture. Lyst.com juga menemukan 61 % mempelai wanita memakai personalized sneakers sebagai alas kaki saat seremoni pernikahan. Serba kasual, inilah Amerika. Bagaimana kalau Zac Posen pindah ke Jakarta saja?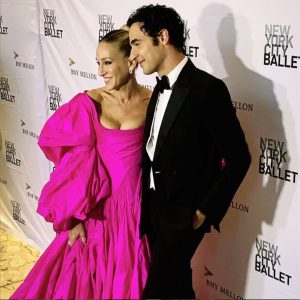 Ribuan Orang Butuh Baju Cantik
Fashion di Indonesia akan selalu berkibar, karena orang Indonesia punya banyak seremoni dan acara, dari mulai pernikahan, sunatan, tujuh bulanan, arisan, selamatan naik pangkat, mau pergi dan pulang haji, dan banyak lagi, semuanya membutuhkan baju baru. Dari semua acara tersebut, seremoni pernikahan adalah kesempatan yang paling grand, paling ditunggu-tunggu, semua undangan dengan gembira akan menunjukkan penampilan yang terbaik. Tempat-tempat pesta seperti aula-aula dan ball room di Jakarta juga harus dipesan setahun sebelumnya. The Grand Ballroom Hotel Mulia Senayan Jakarta, tempat pernikahan crème de la crème penting di Jakarta, bahkan sudah mendapat booking di tahun 2021. Grand Ballroom ini seluas 2319 meter per segi, bisa menampung 1150 tamu dalam formasi duduk, dan 3000 tamu dalam formasi cocktail yang berdiri. Bahkan menurut Hanny Gunawan, Director of Communications Hotel Mulia Senayan Jakarta, Grand Ballroom pernah kedatangan tamu sampai 5000 orang. "Hari pernikahan tidak hanya penuh saat weekend, hari-hari biasa di tanggal-tanggal cantik akan selalu laris, termasuk hari-hari antara setelah lebaran hingga lebaran haji, saat musim pernikahan berlangsung." Ujar Hanny. Banyak orang yang senang datang ke Grand Ballroom Hotel Mulia Senayan, karena luasnya tempat ini baik untuk mengenakan evening gown yang ada train nya.
Menikahlah Di Bali
Josephine Milka Sumampow, pendiri Chroma Wedding Planner, salah satu wedding organizer yang berbasis di Bali, juga sudah mendapat order hingga bulan Maret tahun 2021. Mereka menyelenggarakan rata-rata 4 pesta pernikahan di setiap bulannya. Namun berbeda dengan karakter pesta perkawinan di Jakarta, di Bali gaya pernikahan lebih kasual, memang ada masa di tahun 2000an pengantin yang memakai gaun-gaun ball untuk menikah, "Tapi saat ini umumnya pakaian menjadi lebih simpel, malah ada juga yang mengenakan tshirt. Bridesmaid mengenakan gaun-gaun longgar, dan alas kaki berupa sandal. Acara pernikahan lebih banyak di outdoor," ujar Milka yang juga Chief Operating Officer www.baliweddingeasy.com, sebuah marketplace khusus perkawinan pertama di Indonesia.
Powerful Brides
Tidak ada data sahih tentang jumlah akurat pesta pernikahan di Jakarta atau di Bali, namun pengantin-pengantin di dua tempat ini sudah memiliki power untuk mendapatkan wedding gown dan evening gown dari Christian Dior Couture hingga Vera Wang Bridal. Ini belum termasuk Crazy Rich Surabayan yang bisa menyelenggarakan pesta pernikahan di mana saja di muka bumi ini. Ada bagusnya kalau Zac Posen bertandang ke mari, sehingga rumah couture nya bisa tetap langgeng. Di hari kerja terakhirnya Zac menyampaikan rasa terimakasih yang mendalam kepada semua anggota team nya. Zac menulis di akun instagramnya:
"I want to express my appreciation to our extraordinary team and for all those who have stood by me and the brand. I owe a great deal of gratitude for their unwavering support for and dedication to the Company. I am grateful to the team who lent their incomparable talent and commitment along the way. I remain incredibly proud of what we created and hopeful for the future." Love ZP
Foto: Zac Posen Instagram, Hotel Mulia Senayan Jakarta, Chroma Wedding Planner