Sebagai destinasi yang telah berkembang sebagai pusat hiburan dan bisnis di Timur Tengah, Dubai memiliki daya tarik dan memberikan berbagai pengalaman yang tak ada bandingannya.
Dubai telah sukses memosisikan dirinya sebagai tujuan utama bagi para wisatawan yang memberikan penawaran unik – mulai dari pemandangan kota yang memesona, hamparan gurun yang luas, pasar tradisional Arab yang ramai, tempat ikonik terkenal, beragam pilihan makanan yang menggoda dan kesempatan berbelanja mewah. Dua hari tidak akan cukup untuk menikmati semua hal yang Dubai dapat tawarkan, tapi agar Anda mendapatkan liburan yang terbaik, berikut adalah panduan bagi Anda untuk menghabiskan 48 jam di kota yang tak terlupakan ini.
HARI 1:
·         Perjalanan ke Dubai tidak akan lengkap tanpa mengunjungi bangunan tertinggi di dunia, Burj Khalifa. Menjulang setinggi 830 meter ke langit, Burj Khalifa memiliki 163 lantai dengan masjid tertinggi di dunia, kolam renang tertinggi di dunia serta elevator tercepat dan tertinggi di dunia. Luangkan waktu Anda untuk menikmati pemandangan yang menakjubkan dari observasi At the Top, di lantai 124 dan 148.
·         Hanya dengan berjalan kaki dari Burj Khalifa ada Dubai Mall – destinasi yang tidak boleh dilewatkan bagi pecinta belanja, dilengkapi dengan berbagai merek dunia, seperti AllSaints, Lululemon, Abercrombie & Fitch, Christian Louboutin, Prada dan Michael Kors. Sebagai destinasi belanja, hiburan dan wisata terbesar di dunia, Dubai Mall menjadi tuan rumah bagi Dubai Shopping Festival, Dubai Summer Surprises dan Festival Eid in Dubai, dimana Anda mudah mendapatkan tawaran menarik serta mendapatkan undian berhadiah.
·         The Dubai Mall memiliki Olympic-sized Dubai Ice Rink yang menawarkan waktu istirahat dari kesibukan berbelanja Anda, sementara di luar Dubai Mall, Anda juga dapat melihat Burj Khalifa Lake, dimana Anda dapat menikmati Dubai Fountain, pertunjukan air mancur yang dilengkapi dengan musik, pencahayaan dan banyaknya penonton. Tempat lain yang harus dikunjungi adalah Dubai Aquarium dan Underwater Zoo – rumah bagi 33.000 spesies makhluk air.
·         Untuk Anda yang ingin menghabiskan waktu di luar ruangan, Anda wajib mengunjungi Creek Park. Terletak sepanjang Dubai Creek di bagian tengah kota, Creek Park adalah salah satu taman tertua di Dubai dan tempat yang populer bagi para wisatawan maupun penduduk lokal. Di bagian kota ini juga tersedia berbagai pilihan kapal pesiar tradisional. Makan malam di atas kapal pesiar di sepanjang Dubai Creek memberikan Anda pemandangan memesona, makanan yang mewah, pertunjukkan dan kemeriahan luar biasa bagi semua umur.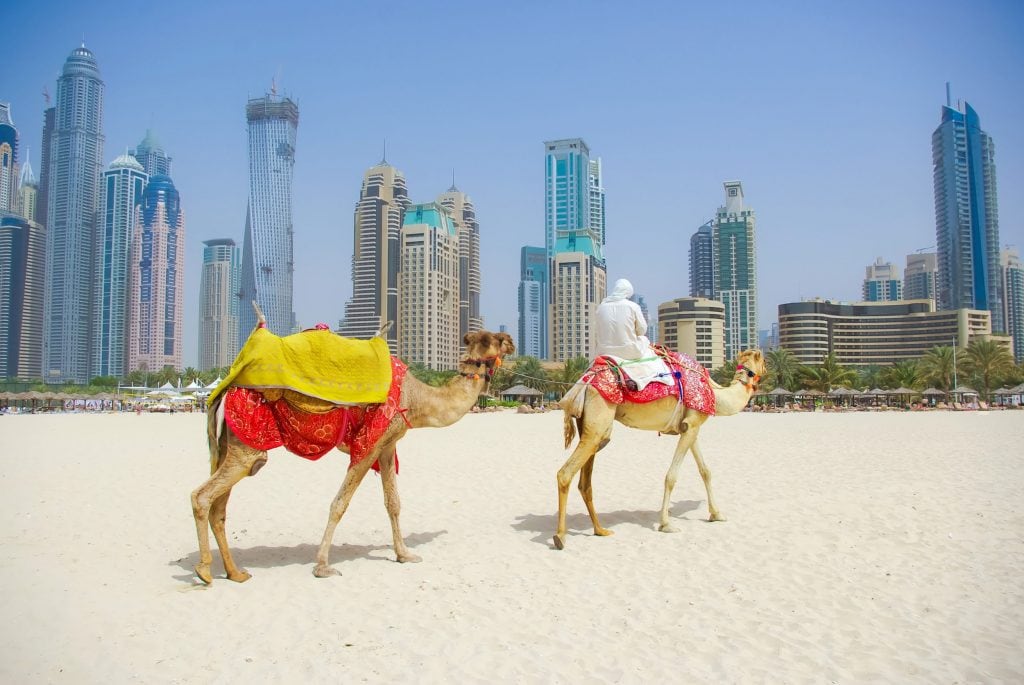 HARI 2:
·         Mulailah hari kedua perjalanan Anda dengan mengunjungi Jumeirah Mosque. Masjid yang paling sering dipotret di Dubai dan satu dari dua masjid yang dibuka bagi pengunjung non-Muslim. Tur ke dalam masjid ini termasuk melihat karya seni mozaik, mural serta kaligrafi Arab. Jangan lupa untuk mengenakan pakaian yang sopan (wanita diminta untuk mengenakan phasmina ketika berkunjung).
·         Untuk mendapatkan pengalaman Arab yang otentik, Dubai menawarkan berbagai pasar tradisional dan souk yang akan membuat Anda merasakan sejarah dan suasana Dubai. Kurma yang lezat, rempah-rempah, wewangian, perhiasan emas dan perak yang antik akan memesona Anda saat berada di sepanjang Gold and Spice Souqs. Dubai terkenal dengan harga emasnya yang terjangkau, dan souq, tempat bagi lebih dari 300 penjual, ini adalah tempat yang tepat untuk menguji kemampuan menawar Anda.
·         Bagi para pecinta budaya, Al Fahidi adalah lingkungan bersejarah yang direstorasi, termasuk menara angin dan lapangan yang berisi pepohonan – tempat yang tepat untuk mempelajari sejarah dan budaya Dubai. Beberapa bangunan yang paling terkenal di daerah tersebut meliputi Al Fahidi Fort yang merupakan rumah dari Dubai Museum, Bait Al Wakeel, gedung perkantoran pertama di Dubai, XVA Art Gallery, menampilkan seni kontemporer dan Sheikh Mohammed Center untuk pemahaman kebudayaan yang menyediakan tur budaya dan sebagainya.
·         Tidak ada perjalanan ke Dubai yang lengkap tanpa merasakan hamparan gurunnya, yang merupakan bagian dari identitas kota ini. Banyak pemandu wisata lokal yang menyediakan safari gurun termasuk menunggang unta, menikmati off-road di gurun atau berseluncur di pasir. Saat senja, Anda akan dipandu untuk pergi ke kemah tradisional Bedouin untuk menikmati kahwa yang harum atau kopi dengan berbagai macam kue khas Arab.
Teks: Ferry Ardiansyah