Membeli sebuah produk buatan dalam negeri yang berkualitas kini semakin mudah. Otenta, sebuah start-up e-commerce akan membantu Anda menemukan produk-produk buatan Indonesia dengan kualitas terbaik hanya melalui ponsel Anda.
Keanekaragaman produk buatan anak bangsa kini makin beragam. Anda bisa melihat begitu banyak produk berkualitas buatan Indonesia yang bisa ditemukan di mana-mana, mulai dari pasar tradisional hingga ke mall-mall besar sekali pun. Kini, satu platform lagi akan menjadi wadah bagi para pengusaha lokal untuk lebih semangat dalam berkarya dan memasarkan produk yang lekat dengan keunikan budaya Indonesia. Lewat Otenta.com, produk-produk tersebut dapat langsung Anda beli tanpa repot harus keluar rumah.
Bapak Triawan Munaf (Ketua Bekraf) meninjau pameran UMKM saat peluncuran Otenta (15/8) di Bursa
Efek Indonesia, Jakarta bersama dengan Anton Liu selaku Founder Otenta.
Otenta.com merupakan sebuah start-up e-commerce yang menhadirkan produk-produk hasil Usaha Mikro Kecil dan Menengah (UMKM) di Indonesia dari berbagai kategori. Di antaranya: kecantikan, busana pria dan wanita, barang-barang seni, hingga oleh-oleh khas nusantara. Tak hanya itu, Otenta juga bekerjasama dengan peritel ternama yang memiliki visi dan misi yang sama dengan Otenta, seperti Sarinah, the home of Indonesian Heritage.
Pada 15 Agustus 2017, bertempat di Bursa Efek Indonesia (BEI), Otenta resmi di luncurkan, dengan dihadiri oleh empat orang founder-nya, yaitu Anton Liu, Syahmedi Dean, Daria Adiwibowo, dan Stevanus Setiawan.  Menurut Anton Lio, "Otenta ingin mengenalkan keragaman produk-produk lokal kepada masyarakat, sekaligus meningkatkan kesadaran mereka akan produk-produk Indonesia yang berkualitas. Saat ini kami melihat potensi pasar yang besar bagi merek-merek lokal untuk berkembang, termasuk di antaranya produk-produk UMKM."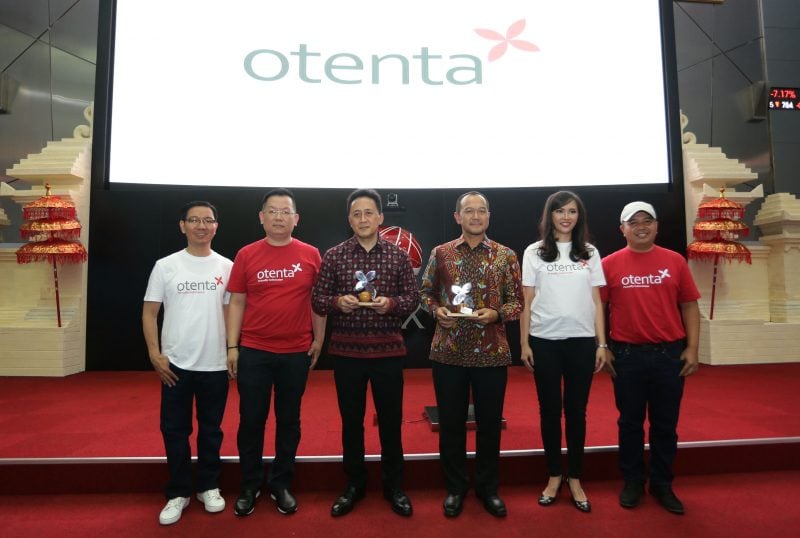 Kiri-kanan: Stevanus Setiawan (CTO/Co-Founder), Anton Liu (Founder Otenta), Bapak Triawan Munaf
(Ketua BEKRAF), Nicky Hogan (Direktur Pengembangan Bursa Efek Indonesia), Daria Adiwibowo
(CEO/Co-Founder Otenta), Syahmedi Dean (CMO/Co-Founder Otenta).
Hingga peluncurannya, saat ini Otenta telah menggandeng setidaknya 120 merer-merek asli Indonesia dengan kurang lebih 3000 ragam jenis produk. Sekitar 60 persen dari produk-produk tersebut berasal dari kemitraan Otenta dengan wirausaha UMKM di Indonesia. Demi membuktikan kredibilitas Otenta sebagai pemain situs jual beli daring berkualitas di Indonesia, setiap produk yang dipajang di etalase Otenta telah melalui proses kurasi oleh tenaga ahli di bidang fashion, desain, kuliner dan interior. Jadi, apa yang Anda lihat di etalasi Otenta adalah produk-produk pilihan berkualitas yang layak untuk Anda dapatkan.
Dalam waktu dekat Otenta akan meluncurkan aplikasi yang dapat diunduh di Google Play dan App Store untuk memudahkan Anda dalam berbelanja di Otenta, di mana pun, kapan pun.