Siapa saja kini tengah merasakan betapa festive season telah mendarat di Jakarta, masa-masa penuh harapan baik menyambut hari raya Natal dan datangnya tahun baru, tahun yang lebih baik. Dimana kita bisa merasakan keriaan harapan ini? Hm, cobalah agendakan untuk singgah di InterContinental Jakarta Pondok Indah, tempat elegan ini telah siap dengan layanan world class untuk memeriahkan perayaan yang menggembirakan ini. Rasakan kemewahan yang sebenarnya berupa luangkan waktu untuk berkumpul merayakan Natal bersama orang-orang yang paling kita sayangi. Dari Christmas Cocktaul yang meriah di The Lounge hingga Christmas Dinner di Sugar & Spice. Resto ini juga terkenal dengan berbagai pilihan parsel premium bertema Natal untuk dihadiahkan kepada kerabat. Tim kuliner kreatif hotel telah menyiapkan berbagai suguhan untuk dinikmati para tamu. Lebih istimewanya lagi, Chef Attila Körmöczi membawa cita rasa otentik Eropa ke perayaan Natal tropis di Jakarta, tentu dengan salah satu sajian klasik Natal paling terkenal di Jerman, Stollen Bread.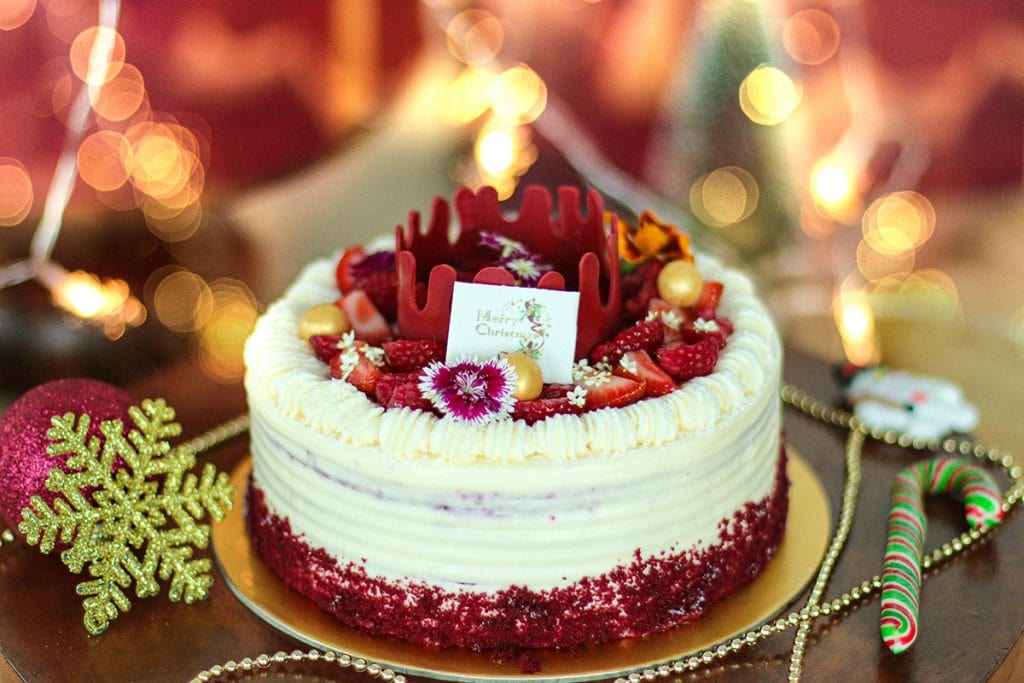 Stollen Bread, tradisi dari Jerman
"Sedari kecil saya melihat ibu saya menyiapkan permen Natal yang paling digemari keluarga, saat bulan Desember yang bersalju dan membeku. Saat bermain di luar, di salju yang tebal, saya mencium aroma manis dan buah keluar dari jendela dapur, sangat menggelitik indra saya, saya tahu sesuatu yang sangat istimewa akan segera datang," ujar Chef Attila tentang Stollen Bread buatan ibunya. "Stollen Bread pertama kali dikenal pada abad ke-14 di kota Dresden, Jerman Timur, Christmas Stollen adalah salah satu hidangan paling ikonik yang disajikan selama hari perayaan, disajikan roti berbentuk menyerupai bayi Yesus Kristus yang dibungkus pakaian," kenang Chef Attila.
Bintang Tamu, Chef Kim Pangestu
Bukan Natal yang lengkap jika tidak menghadirkan banyak suguhan manis. Untuk itu InterContinental Jakarta Pondok Indah telah mengundang superstar pastry muda yang sedang bersinar, Kim Pangestu dari Nomz Kitchen & Pastry. Ia dikenal karena membawa imajinasi kreatifnya dan keahlian membuat pastry. Kreatifitas ini menjadi bagian dari perayaan Natal di InterContinental Jakarta Pondok Indah. Kim telah mengasah keterampilannya di dapur bergengsi seperti Le Cordon Bleu dan Tetsuya Restaurant di Sydney, Peter Doyle di The Quay dan Zumbo Patisserie Adriano Zumbo. Kreasi Kim telah memukau banyak selera pecinta kuliner di Indonesia dan luar negeri.
Rayakan malam tahun baru bersama InterContinental
Perayaan Malam Tahun Baru sudah disiapkan di InterContinental Jakarta Pondok Indah, dimulai dengan dinner Jumat malam di restoran andalan Sugar & Spice. Kemudian akan diikuti dengan versi upgrade dari brunch paling elegan di Jakarta pada hari Sabtu 1 Januari 2022. Nah, agar lebih mudah dan santai, cara terbaiknya adalah dengan pindah sementara dari rumah Anda dan menginap di InterContinental Jakarta Pondok Indah, lalu bergabung dalam perayaan dengan Christmas Weekend Staycation dan New Year's Room packages.
InterContinental ke rumah Anda dan hamper premium
Namun, Jika Anda lebih ingin merasakan kedamaian Natal dan Malam Tahun Baru di rumah sendiri, InterContinental memiliki paket Let Us Come To You, yang siap disajikan di rumah Anda, menampilkan menu seru seperti Stollen Bread yang artisanal. Christmas pie, liver pate dengan truffle dan port wine jelly, dan banyak aneka pilihan lain. Biasa juga Anda berbagi kebahagiaan dengan kerabat lain dengan mengirimkan Hamper premium sebagai hadiah yang paling elegan.