Office wear semakin menyenangkan dari point of view seorang Thom Browne, seorang desainer yang berbasis di New York, namun melesat juga di Paris. Identitas desain yang semakin menguat, yaitu formal wear dan tailoring, membuat Thom semakin mudah memain-mainkan ide di dalam koridor identitas yang sudah ia bangun. Untuk koleksi terbaru Pre-Fall 2020 ini (masih menggunakan kekaisaran warna abu-abu), dengan bahan-bahan british tweed, wol Shetland (dari domba yang hidup di kepulauan Shetland di sebelah utara Scotland, wol dari domba ini terkenal soft, strong, dan the finest dari semua bulu domba di Inggris Raya), motif argyle, dan si kotak-kotak tartan. Semua bahan-bahan ini dilindas secara tailored, menjadi bentuk overcoat, pant suit, skirt suit, yang semuanya berkiblat ke oversize look. Pleated skirt dibuat berdimensi dengan memberi efek shadow pada sisi timpa lipitan, shadow mempertegas dimensi lipitan meskipun terlihat dari jarak yang jauh.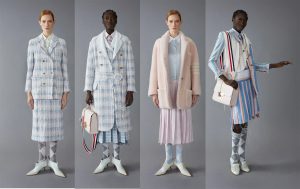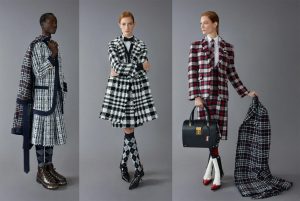 Zebra Dan Jerapah Ikut Ke Kantor
Suasana formal dan tailored ini kemudian Thom lebarkan dengan jangkauan yang artsy, fun world semacam singgah ke toy city. Bahan British tweed yang sebegitu resminya berubah menyenangkan dengan kehadiran beberapa ekor zebra yang imut, zebra hadir dengan teknik patchwork, jelujur benang penempel ditampilkan dengan nyata dan naïve, kontradiksi yang keren antara kesempurnaan jahitan tailored bertemu dengan jelujur benang yang ala rumahan, antara suasana formal yang pefect rapi dengan kehadiran fauna-fauna gemas. Selain zebra, Thom menghadirkan juga jerapah, gajah, dan singa. Mood rancangan menyerap sisi elegan tahun 20an, di saat kejayaan tailoring berlangsung, saat garis bahu sedikit lebih lebar dari ukuran bahu sebenarnya. Gaun-gaun flapper yang in di tahun 20an, yang kerap beraksen ornamentasi satu bar di bagian hemline gaun, diserap bagian ornamentasinya, dipindahkan ke bagian hemline coat dan jaket, dengan aksen handmade tweed.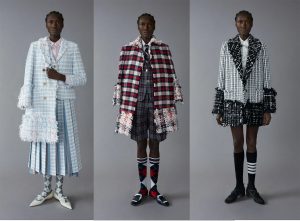 Foto: Thom Browne