Musim gugur ini Chanel Beauty menawarkan lip color berformula matte  sebagai pemecahan masalah lip gloss yang sticky sehingga tidak nyaman di bibir, messy dan tricky untuk di re-apply, dan juga terlalu basah glossy sehingga kalau di Indonesia dinilai sebagai bibir penggemar gorengan. Lip color Chanel terbaru ini bernama Rouge Allure Ink Fusion, koleksi ultra matte liquid lip color yang tahan lebih lama. Pesan 'The more matte the better' yang sedang berkibar bukan berarti membuat bibir menjadi kekeringan, Rouge Allure Ink Fusion (RAIF) ini tidak menampakkan 'cracking' dipermukaan bibir, dan tidak mengeras. Terasa juga kesan silky dan satiny yang lembut di bibir. Setelah dioleskan dia akan mengering tapi tetap luminous.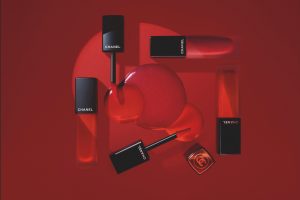 Creamy, smudge-proof
Rouge Allure Ink Fusion ini adalah generasi baru di jajaran liquid lip color, ia akan segera  melebur bagai kulit kedua pada bibir begitu dioleskan, dan tetap terasa ringan walau dioleskan beberapa layer, dan smudge-proof. Teksturnya fluid dari campuran polymers dan gel, lalu kesan creamy yang halus terdiri dari mattifying silica microbeads yang memberi efek velvety. Formula ini dengan pintar akan lentur menyesuaikan dengan elastisitas dan kelenturan bibir, sehingga terasa nyaman. Kinerja matte dan ketahanan warna bisa bertahan hingga 8 jam (hasil uji Chanel pada 31 wanita).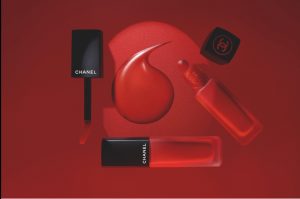 12 Shades of Fall
Tapi apa artinya semua itu kalau warnanya sendiri 'dull'? Bibir perlu menyimpan semangat dan keseksian yang tersembunyi. Kalau diperhatikan, RAIF Chanel ini menyediakan 12 shade yang tidak klise, seperti coral peach, rose rouge, dan true red, warna-warna musim dingin dengan kesan warna merah yang tersembunyi. Setiap shade mengandung pigmen ultra-fine berkonsentrasi tinggi, kombinasi anti oksidan berupa Sappan wood dan vitamin E.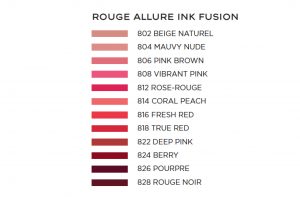 Foto: Chanel