Keceriaan Hari Raya Natal mendarat di Shangri-La Hotel mulai hari ini, sepanjang bulan Desember, hingga tahun baru 2020 tiba. Euforia Natal dapat dirasakan para tamu melalui serangkaian program, seperti progam liburan, hantaran buah tangan yang cantik, dekorasi hotel yang menakjubkan dan menu makanan yang lezat. Natal spesial di Shangri-La Hotel Jakarta terinspirasi dari Celestite crystal yang mencerminkan ketenangan dan semangat yang positif. Dekorasi terdiri dari berbagai sentuhan ornamen bernada putih, silver dan Kristal. Para tamu akan dimanjakan dengan pemandangan indah mulai dari Lobby, sisi pintu masuk akan dihiasi dengan ornamen berwarna silver dan putih yang, diikuti oleh dekorasi gunung es kecil dengan penguin berbentuk polygonal terbuat dari kaca acrylic yang terletak di lobi utama.
Heavenly Christmas Dan Holiday Season
Kemudian berlanjut ke depan restoran SATOO, dengan dekorasi sayap seperti kristal yang terbuat dari kaca acrylic akan terpajang indah berdampingan dengan pohon serta ranting berwarna putih, menciptakan pemandangan terbaik untuk mengabadikan momen berharga bersama orang tercinta. Shangri-La Hotel, Jakarta dengan senang hati menyambut para tamu untuk menikmati hidangan yang telah dipersiapkan oleh tim kuliner SATOO. Beragam pilihan hidangan lezat seperti Beef Fillet Wellington, Classic Roast Turkey with Herb Stuffing and Old-Fashioned Gravy, Roast Rack of Lamb with Redcurrant Juice and Slow-Cooked Short Ribs with Gremolata. Kue kering khas Natal seperti Stollen and Gingerbreads serta pilihan kue kering rumahan yang menggugah selera. Hidangan ekslusif ini akan dapat dinikmati oleh para tamu pada tanggal 24 dan 25 Desember 2019.
Desember Penuh Keriaan
JIA mempersembahkan all-you-can-eat dim sum dengan pilihan menu Chinese cuisine. Selain itu, Christmas brunch dapat dinikmati di SATOO dan Rosso. Shangri-La Hotel, Jakarta juga dengan bangga mempersembahkan paduan suara oleh Fortunate Kids Choir yang akan menghibur para tamu dengan alunan lagu Natal yang harmonis. Pada saat yang bersamaan, kehadiran Santa Claus pada malam Natal serta hari Natal. Selama tanggal 1 Desember 2019 hingga 1 Januari 2020, tamu kami juga dapat menikmati High Tea yang disediakan oleh Lobby Lounge. Para tamu akan dihibur dengan alunan musik instrumental sambil menikmati teh hangat dan kue manis istimewa yang dibuat oleh tim pastry. Paduan suasana yang elegan dan lantunan musik yang indah akan membawa kita kedalam damai Natal yang syahdu.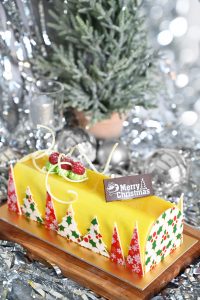 Hadiah Terkasih
Tradisi berbagi dalam sukacita Natal, Shangri-La Hotel, Jakarta mempersembahkan beragam pilihan hantaran buah tangan denga tema Heavenly Christmas. Bingkisan cantik tersedia dalam tiga kategori; Sapphire, Aquamarine dan Crystal. Kali ini kami menawarkan berbagai macam pilihan produk kue kering khas Natal beserta pilihan kue kering lainnya. Diantaranya adalah Double-Chocolate Cookies, Praline Rings, Cinnamon Heart Cookies, Gingerbread Cookies, Kokos Macaron and Chocolate Pralines, yang dengan sepenuh hati dibuat oleh tim Pastry. Bingkisan ini tersedia mulai tanggal 11 November hingga 31 Desember 2019 di SATOO Deli.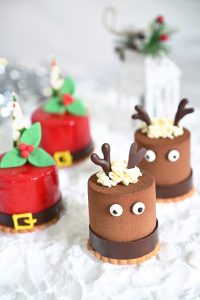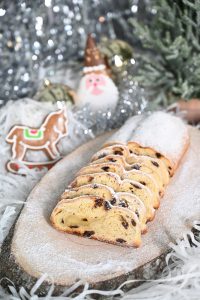 Hello 2020
SATOO dan Rosso akan mempersembahkan santapan yang spesial pada perayaan tahun baru. Para tamu dapat menikmati hidangan lezat yang secara khusus dibuat oleh tim kuliner berbakat untuk perayaan tahun baru. Hidangan yang disediakan adalah Roasted Giant Beef Leg, Pan-Seared Foie Gras, Salmon Wellington and premium fresh seafood ranging from tiger prawns, mussels and clams serta beragam pilihan kue. Rosso akan mempersembahkan masakan Italia dengan hidangan khas liburan seperti Champagne Risotto and Scallops, Beef Tenderloin and Porcini Mushroom Ragout, Grilled Rack of Lamb and Four Cheese Polenta. Lalu keesokan harinya, di hari pertama tahun 2020 tim kuliner SATOO, JIA dan Rosso mempersembahkan New Year brunch sebagai pilihan yang melegakan bagi para tamu untuk berkumpul.
Foto: SHangri_la Hotel, Jakarta