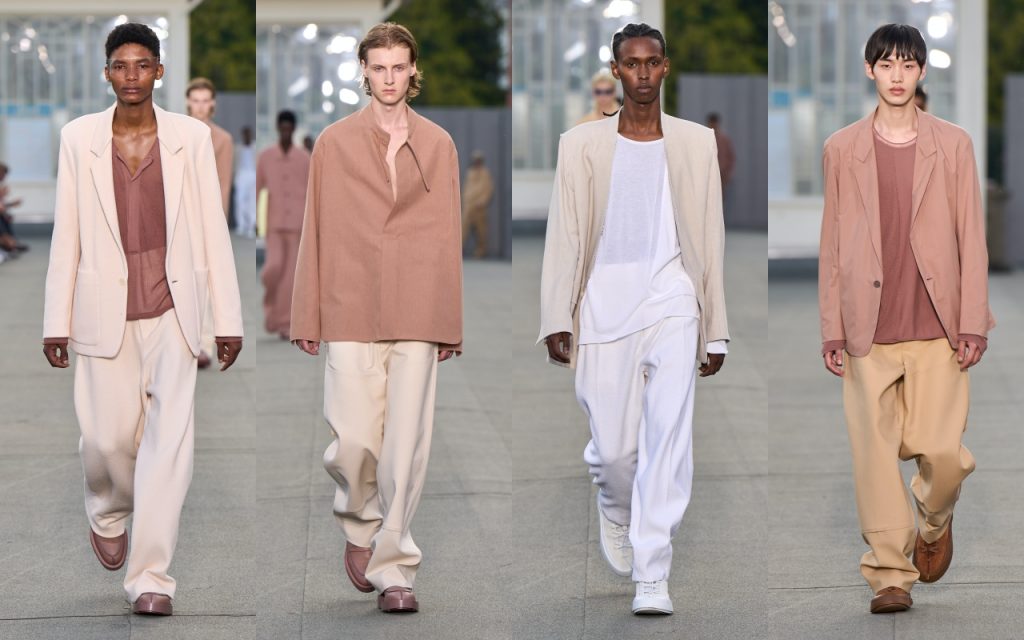 If you want to do flexing, do it on the right way on the next level. Lakukan dengan benar tanpa mengintimidasi. Ini yang dapat saya lihat dari kacamata saya sebagai jurnalis fashion saat menonton presentasi Zegna summer 2023 kemarin dari Trivero, Italy. Zegna mempersembahkan koleksinya di Oasi Zegna, Trivero, dan mempersilahkan semua tamu ke sarang di mana jenama ini mulai membangun legacy. Saya yang sudah pernah berkunjung ke Oasi Zegna, mampu melihat kekuatan Zegna yang ingin ditunjukan pada dunia lewat lokasi fashion show kali ini.
Oasi Zegna yang berada Trivero ini memiliki berbagai fungsi dengan luas yang sangat luas. Sangat luas. Hingga gunung dan bukit sekitarnya juga merupakan wilayah Oasi Zegna. Di sini terdapat beberapa bangunan, Casa Zegna, factory, museum dan yayasan Ermenegildo Zegna. Lokasinya sekitar 1 jam dari kota Milan. Disini pula letak inti dari semua energi Zegna, yang juga ingin ditunjukan oleh Alessandro Sartori, direktur kreatif Zegna. Ia menunjukan betapa harmonisnya setiap potong pakaian yang dibuat dengan alam tanpa kehilangan akar darimana pakaian tersebut berasal. Baik dari pengolahan fabric, proses daur ulang hingga menjadi sebuah baju. Ini pula yang ingin disampaikan Sartori kepada generasi muda, untuk membekali mereka dengan pengetahuan kualitas, desain dan fashion styling.
Sekarang mari kita lihat koleksinya dengan ragam warna diatas desain yang serba longgar ini. Walau terlihat sederhana, Sartori yang memegang teguh konsep all in the details, menawarkan pakaian dengan pola dasar pakaian pria, kemeja, jaket, celana, stelan jas, t-shirt, polo short, blouson, kardigan dan sweater. Kesederhanaan ini memaksa Sartori untuk menampilkan kesempurnaan teknik jahit dan penggunaan fabric di level couture. Lambaian demi lambaian fabric yang jatuh dari badan model, harus bergerak sempurna selama berjalan di runway yang cukup menantag. Model harus berjalan jauh kemudian naik tangga untuk mencapai puncak atap di mana fashion show dilaksanakan. Penyampaian ini secara tak langsung mengkomunikasikan bahwa pakaian buatan Zegna dibuat sefleksibel mungkin untuk berbagai gerakan. Material yang digunakan, technical silk, rajut, wool, kulit dan nylon, semua dibuat seringan mungkin tapi menempel sempurna di lekuk tubuh dalam warna-warna tanah yang maskulin.
Untuk warna sendiri, selain warna tanah, warna yang paling mencolok disini adalah palet kuning yang muncul dalam berbagai gradasi. Mulai dari kuning pucat hingga kuning lemon yang terang. Permainan warna ini membuat koleksi terlihat dinamis dan jauh kesan monoton. Zegna juga memperkenalkan salah satu material terbarunya, yang diolah sendiri tentunya, Oasi Cashmere atau Kasmir Oasi. Material yang diolah atas dasar tanggung jawab terhadap lingkungan dan me-represent konsistensi Zegna dalam mengolah fabric dari awal yang merupakan nilai tersendiri yang tidak dimiliki oleh jenama fashion lain.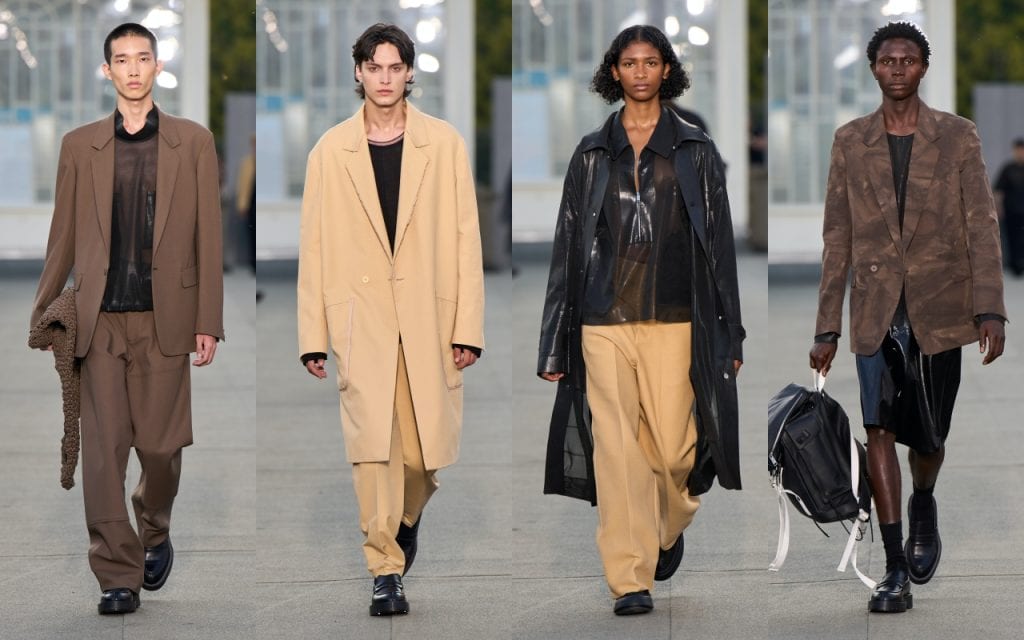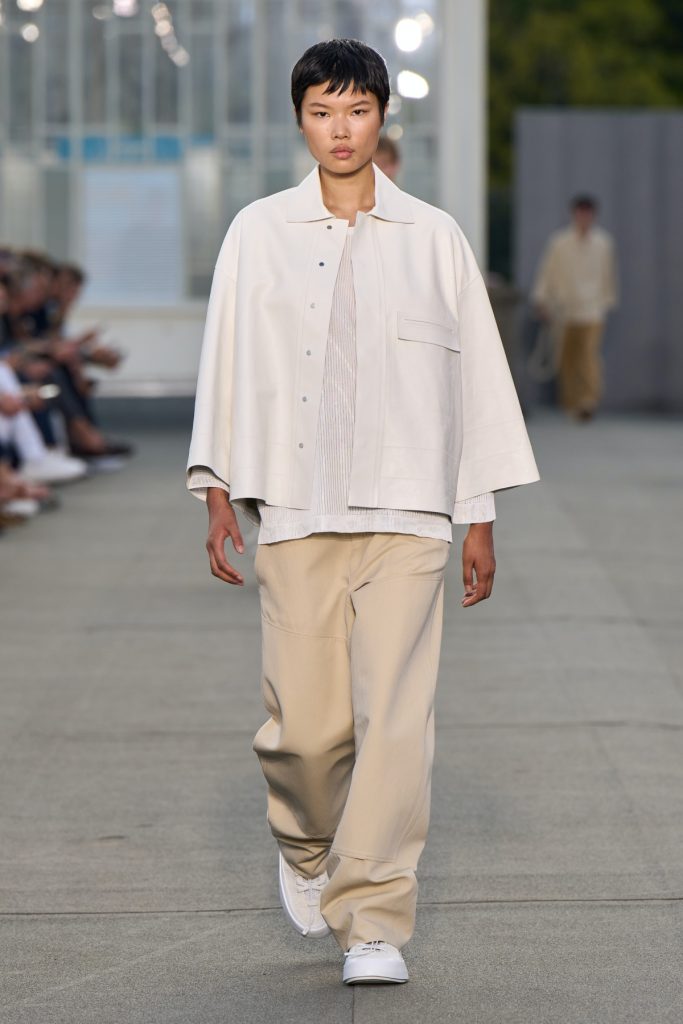 Foto dok. Zegna