Hotel yang baru saja mengalami proses pemugaran ini merupakan perpaduan budaya, sejarah dan talenta Singapura dengan desain dan kenyamanan yang tinggi. Sebuah properti warisan independen yang kini dibuka di tepi Singapore River.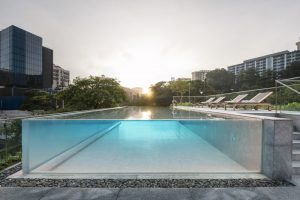 The Lo & Behold Group adalah perusahaan di balik berdirinya The Warehouse Hotel. Hotel perdana buatan mereka ini merupakan bagian dari portofolio Design Hotel sTM yang dimiliki oleh I Hotels. Desain arsitekturnya sendiri dibuat khusus oleh badan lokal Asylum dan perusahaan Zarch Collaboratives.
Dekorasi dan perabotannya merupakan perpaduan masa lampau dan era modern Singapura, menghadirkan suasana bernuansa industri namun tetap ramah.
"Fokus kami adalah melindungi warisan properti, sekaligus menciptakan perspektif yang baru untuk istilah 'industri'. Lingkungannya hangat dan modern agar tidak terkesan hanya tenggelam dalam sejarahnya di masa lampau," ujar Kepala desainer dan pendiri Asylum, Chris Lee.
Desain Bar yang khas menyajikan program koktail kreasi sendiri dengan infusi alkohol dan esens buatan sendiri. Sebagai penghormatan pada tiga era masa lalu hotel yang berbeda, menu minumannya yang eklektik merupakan perjalanan melalui setiap inkarnasi. Para tamu akan
menikmati citarasa perdagangan rempah-rempah, merasakan berada di tengah-tengah penyulingan ilegal, dan akhirnya tenggelam di era 80-an yang memukau – saat bangunan ini menjadi diskotek paling terkenal di Singapura pada masa itu.
Sementara portofolio kulinernya dirancang oleh Chef Willin Low yang sudah sangat diakui. Beliau adalah Chef Mitra untuk restoran andalan hotel, Po. Chef Low juga membuat menu untuk sarapan, bersantap di kamar dan bar lobi. Sebagai pendiri Wild Rocket – salah satu dari 50 Restoran Terbaik di Asia – pelopor Mod-Sin ini telah membangkitkan kembali zcitarasa masa lalu yang begitu disukai dan menyajikan berbagai hidangan lokal favorit dengan interpretasi baru dengan hanya menggunakan bahan-bahan Asia terbaik eksklusif untuk hotel.
Hidangan khasnya termasuk Charcoal-grilled Iberico Satay, Spicy Tamarind Barramundi dan Carabinero Prawns & Konbu Mee. Po adalah penghormatan untuk popo – Bahasa Mandarin untuk nenek – serta kekayaan warisan kuliner Singapura.
Memiliki 37 kamar yang elegan dengan enam kategori yang didesain dengan nuansa minimalis, The Warehouse Hotel berusaha untuk menceritakan kisah kreator dan perusahaan lokal baru Singapura melalui kemitraan yang penuh makna. Dengan tiga atap pelananya yang khas, dan dinding batu asli, kamar-kamarnya didesain untuk menonjolkan tata letak bangunan yang sudah ada, membuat setiap kamarnya berbeda.
Cangkir kopi dan teh di kamar dipasok oleh Mud Rock, sebuah studio keramik lokal. 'Minibars of Vice' telah dipilih secara khusus untuk menampilkan produk-produk Asia Tenggara yang masuk dalam tiga kategori – 'Gluttony' termasuk keripik kentang kuning telur asin dan cokelat hitam Vietnam, 'Lust' untuk mereka yang nakal, dan 'Vanity' untuk produk kecantikan lokal.
Meja resepsionis hotel juga berfungsi sebagai instalasi ritel yang menampilkan 'Objects of Vice' yang dikurasi oleh kreator perabotan lokal Gabriel Tan bekerja sama dengan Edwin Low dari Supermama. Barang-barang yang unik dan sulit ditemukan ini menyerupai aksesori yang pernah digunakan oleh bos-bos asli gudang (atau dailo) seperti, korek api, asbak dan botol. Sepeda, karya seni, buku panduan dan pilihan kopi dan teh juga dikumpulkan dari para kreator Singapura. Terakhir, tim pramutamu akan berfokus pada berbagi rekomendasi pribadi yang unik dengan para tamu untuk kenangan yang tidak akan dapat Anda temukan di tempat lain.