Toton tampak sibuk berbincang dengan tim The Bridge SS 2019 showrooms, di 108 rue Vieilledu Temple, Paris. Sementara koleksi terbaru yang ia bawa dari Jakarta sudah terpajang rapi, aksesori dan sepatu-sepatu tersusun rapi di bagian depan hanger. The Bridge adalah fashion sales agency yang mempresentasikan koleksi Toton ke mata fashion Buyer dari Amerika, Eropa, dan Asia.
Walau sudah beberapa kali mengikuti trade show di rentang masa Paris Fashion Week, baru kali ini Toton bergabung dengan The Bridge. "Kami sudah kelamaan dengan agency sebelumnya, jadinya kurang pengalaman, mau enggak mau kami harus belajar lagi", ujar Toton kepada Luxina tentang perpindahan agensi fashion yang mereka lakukan. Menurut Toton, ia banyak mendapat informasi dari Peggy Hartanto yang sudah lebih dulu bergabung dengan The Bridge.
"Saya menilai bagaimana kerjasama The Bridge dengan Peggy Hartanto yang berjalan baik. Lalu teatum Jones, pemenang Woolmark Prize musim lalu, juga pernah di The Bridge. Record track agensi ini benar-benar bagus. Saya coba menghubungi The Bridge, bertanya apakah ada tempat buat 1 desainer Indonesia lagi. Ternyata mereka sudah tahu brand kami, dan mereka mau memfasilitasi."
Koleksi yang dipresentasikan bersandar pada cerita-cerita legenda di Indonesia, cerita yang KERAP menempatkan wanita sebagai korban yang lemah. Lewat desain, Toton berusaha menampilkan bahwa keindahan dan kelemah lembutan bisa tampil menjadi kekuatan. Warna-warna pastel diangkat sebagai pilihan, detail bordir 3D ditumpuk multi-layer, motif bordir diserap dari ornamen ukiran kayu dari Jepara dan Bali.
Toton adalah finalis International Woolmark Prize 2016/2017, rancangan-rancangannya bisa ditemukan di ARA Jakarta, Masarishop.com, Lane Crawford Hong Kong, Le Charme de Fifi et Fafa Tokyo, Blank Boutique Riyadh, dan AL OSTOURA.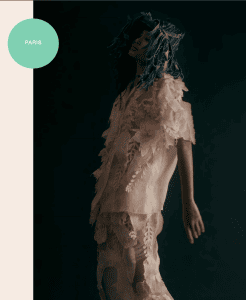 Foto: Rambo Ghozali