Pada rangkaian kegiatan BMW Driving Experience – Conquering 5 Cities with BMW 5 Series yang berlangsung pada 12-15 Maret 2018, BMW Group Indonesia kembali buktikan kekuatan dari filosofi dan fitur BMW EfficientDynamics yang tertanam pada seluruh rangkaian kendaraan BMW termasuk diantaranya hadir pada all-new BMW 520i Luxury. Para peserta lalui lima kota; Jakarta, Cirebon, Semarang, Solo dan Surabaya dalam perjalanan sejauh 900 km hanya dengan 50 liter bahan bakar Shell V-Power.


Jodie O'tania, Vice President Corporate Communications BMW Group Indonesia, mengatakan, "Pada BMW Driving Experience – Conquering 5 Cities with BMW 5 Series ini BMW Indonesia demonstrasikan 5 keunggulan terbaik dari All-new BMW Seri 5 pada ragam tipe,kontur jalan, rute dan situasi berkendara sebenarnya. Hasil yang didapatkan sangat luar biasa dimana para peserta dapat taklukkan 5 kota dengan hanya menghabiskan 50 liter atau ¾ dari kapasitas tangki bahan bakar, hal ini tunjukkan integrasi aplikasi BMW EfficientDynamics pada All-new BMW 520i Luxury telah berhasil berikan kenyamanan terbaik dan JOY dengan efisiensi bahan bakar yang sangat tinggi."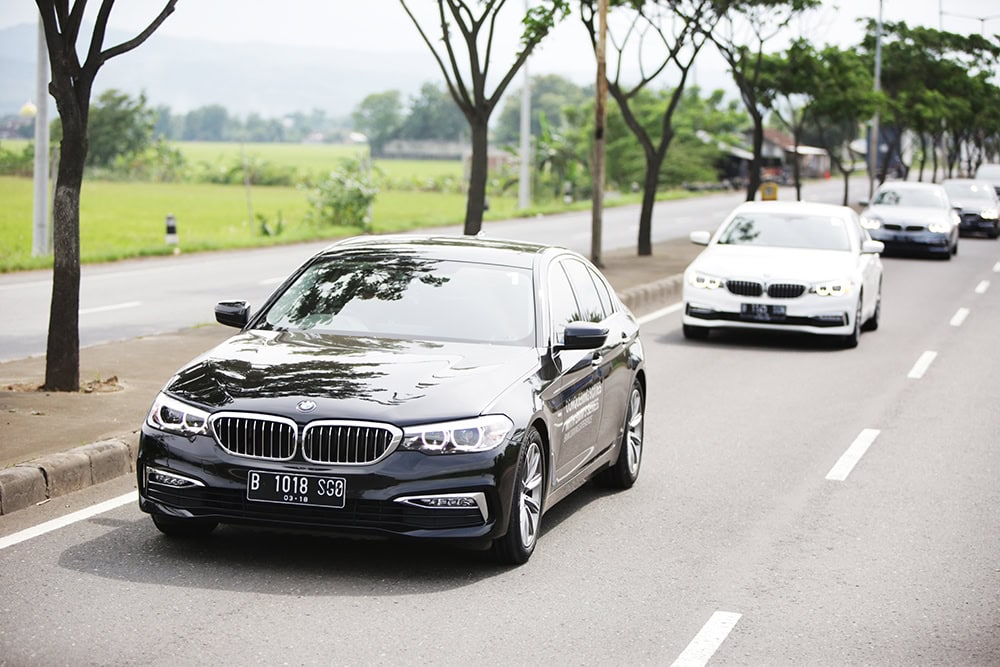 Dimulai dari hari pertama dimana para peserta diajak menjelajah kesibukan dua kota besar yaitu Jakarta dan Cirebon menggunakan moda berkendara COMFORT mode. Berlanjut di hari kedua, dimana the Business Athlete melewati jalan tol baru di ruas Cipali hingga Brebes Timur, jalan arteri pantai utara, hingga ke Semarang dimana peserta dapat merasakan akselerasi BMW Seri 5 di area Bandara Ahmad Yani menggunakan moda berkendara SPORTS mode, sebelum berakhir di kota keempat, Solo, Jawa Tengah. Di hari ketiga para peserta mendapat tantangan untuk menaklukkan jalanan menanjak di kaki gunung Lawu, hingga kepadatan lalu lintas dalam perjalanan menuju kota terakhir, Surabaya, Jawa Timur.
BMW 520i Luxury yang baru diluncurkan termasuk dalam rangkaian kegiatan untuk menempuh perjalanan selanjutnya menuju kota Cirebon yang menawarkan pengalaman berkendara yang tak terlupakan. All-new BMW Seri 5 sendiri merupakan sedan bisnis premium paling sukses di dunia yang menawarkan pengalaman berkendara dinamis dengan kombinasi sistem bantuan paling inovatif. Dengan daya tarik yang kuat dalam bidang desain, performa dan efisiensi, all-new BMW Seri 5 telah dipersiapkan untuk taklukan 5 kota sekaligus memberikan pengalaman berkendara dinamis terbaik dan JOY di sepanjang perjalanan.


Sukses menempuh kota Cirebon, para peserta media drive diajak untuk memacu adrenalin melibas perjalanan menuju destinasi selanjutnya yakni kota Pekalongan, Semarang dan berkompetisi di hanggar Skuadron 31-Serbu Penerbang TNI Angkatan Darat (Penerbad) di Landasan Udara Ahmad Yani, Semarang dalam mode Sport mode. Di tempat ini mereka diajak untuk menaklukkan track buatan yang sengaja dibuat khusus untuk mempertandingkan kompetisi time trial dan drag race acceleration berjarak 201 meter. Yang membuatnya menarik adalah kegiatan ini dilakukan di depan hanggar helikopter tempur Mi 35 buatan Rusia dengan latar belakang pesawat komersial yang sedang hilir mudik di Bandara Ahmad Yani. Berhasil keluar sebagai juara, Luthfi Aziz dari Oto Driver mampu menaklukkan lintasan tercepat dalam waktu 28,52 detik. Sementara untuk 201m acceleration test, sedan putih 520i Luxury yang dikendarai Aditya Pratama dari Kumparan.com berhasil menjadi yang terdepan.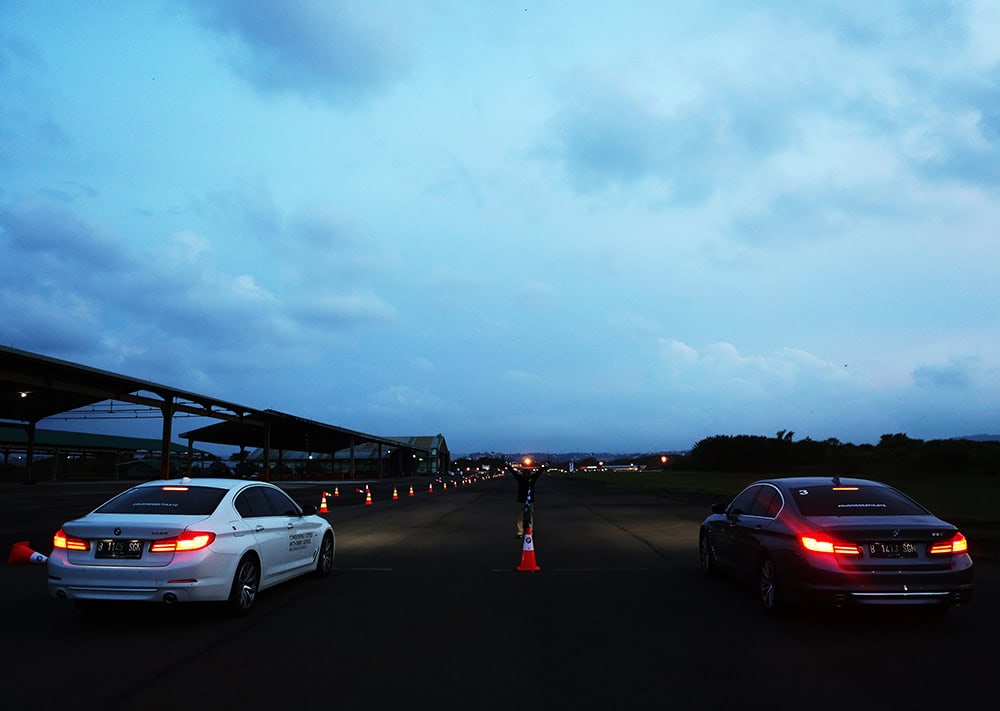 Perjalanan di hari ketiga membawa para peserta melewati rute Solo, Tawangmangu, Madiun menuju kota Surabaya dengan mode berkendara Eco-Pro. Disepanjang jalan menuju Surabaya, para peserta dapat menikmati keindahan panorama alam dan kelezatan kuliner asli khas dari masing-masing daerah. Melukis kenangan berkendara yang tak akan terlupa dibenak dari para peserta BMW Driving Experience – Conquering Five Cities with BMW 5 Series.