Membuat rencana liburan merupakan sesuatu yang selalu dinantikan setiap orang. Baik itu liburan sekolah, akhir tahun, atau sekadar libur panjang, rasanya sudah tidak sabar untuk segera memutuskan destinasi liburan berikutnya. Apabila Anda adalah penggemar Disney dan Marvel, tidak ada salahnya untuk mempertimbangkan berkunjung ke Hong Kong Disneyland (HKDL) pada musim liburan tengah tahun ini.
Berikut adalah 5 pengalaman di HKDL yang dapat Anda nantikan pada musim liburan tengah tahun ini:

1. Ant-Man and The Wasp: Nano Battle!
Dengan jalan cerita yang menarik, visual yang memukau, dan setting yang mengesankan, Ant-Man and The Wasp: Nano Battle! merupakan atraksi interaktif pertama yang menampilkan karakter Ant-Man dan The Wasp. Selain itu, Ant-Man and The Wasp: Nano Battle! juga merupakan atraksi Marvel pertama di taman Disney yang menghadirkan superhero perempuan sebagai salah satu karakter utama.
Dalam atraksi berteknologi tinggi ini, pengunjung dapat bertempur bersama Ant-Man dan The Wasp saat mereka menyusut menjadi seukuran semut. Atraksi ini juga memperkenalkan karakter Marvel dari Hong Kong yang pertama, Leslie Lam. Bersama mereka, para pengunjung akan diajak dalam sebuah pertempuran melawan artificial intelligence jahat Arnim Zola dan sekawanan robot Hydra.
Ant-Man and The Wasp: Nano Battle! adalah atraksi Marvel kedua yang ada di HKDL, di mana atraksi ini menjadi lanjutan dari rencana pengembangan HKDL sebagai hub untuk berbagai atraksi superhero Marvel di Asia. Atraksi ini sudah dapat dinikmati oleh pengunjung sejak 31 Maret 2019.

2. Toy Story & Pixar Pals Summer Splash
Untuk menyambut film Toy Story 4, HKDL akan menghadirkan festival Toy Story & Pixar Pals Summer Splash mulai dari 27 Juni – 1 September 2019. Pengunjung Indonesia dapat menikmati keseruan bermain air bersama para karakter Disney•Pixar, termasuk mendapat semburan air dan kabut dari Toy Story Float dan Nemo Float untuk pertama kalinya.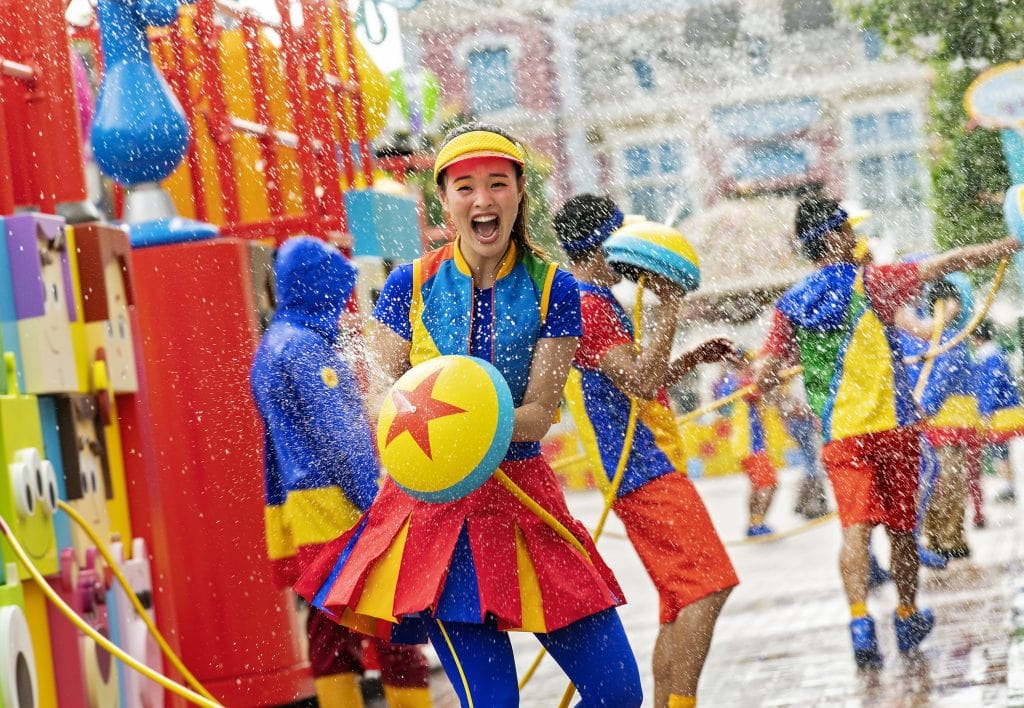 Selain itu, juga ada penampilan perdana dari karakter Toy Story 4 Bo Peep dan Forky. Mr. dan Mrs. Incredible dari The Incredibles, Joy dan Sadness dari Inside Out, Carl, Russell, dan Dug dari Up, beserta 40 penampil lainnya, juga akan bergabung untuk membuat festival Toy Story & Pixar Pals Summer Splash menjadi lebih meriah.

3. Bibbidi Bobbidi Boutique terbaru di area kastil
Kini para pengunjung anak-anak bisa mendapatkan makeover untuk menjadi putri kerajaan di Bibbidi Bobbidi Boutique yang terletak di area kastil. Terdapat berbagai pilihan busana sesuai dengan putri kerajaan favorit mereka, termasuk Elsa, Anna, Belle, Cinderella, Aurora, Snow White, Rapunzel, serta Ariel, dengan bantuan dari Ibu Peri. Selain itu, lokasi terbaru ini juga menawarkan pengalaman kerajaan yang interaktif melalui Magic Mirror, di mana pengunjung anak-anak dapat mendengar kisah putri kerajaan favorit mereka.

4. Staycation di Nemo's Recreation Reef dan Disney Arts & Crafts
Terinspirasi dari film populer Finding Nemo, HKDL akan membuka tempat bermain anak-anak yang terbaru bernama Nemo's Recreation Reef di hotel Disney Explorers Lodge. Di sini, pengunjung anak-anak dapat menikmati keseruan menjelajahi dunia Nemo sekaligus mengasah kreativitas melalui sesi kerajinan tangan dan kesenian, termasuk membuat dekorasi bertema Disney dan aksesoris buatan tangan. Selami dunia bawah laut bersama dan Nemo dan kawan-kawan, di mana Anda bisa mendapatkan aksesoris berupa sirip dan tentakel, dalam acara Summer Night Program "Dory Where Are You".

5. Surga belanja bagi penggemar Disney•Pixar dan Marvel
Lengkapi pengalaman HKDL dengan lebih dari 280 pilihan suvenir musim panas, termasuk 70 suvenir perayaan HKDL yang ke-14 dan 120 suvenir bertema Toy Story. Penggemar superhero juga dapat mengunjungi Pavilion Gifts, toko suvenir HKDL bertema Marvel di area Tomorrowland. Pengunjung dapat memilih di antara 300 pilihan suvenir Ant-Man, The Wasp, dan S.H.I.E.L.D, serta 40 suvenir eksklusif Ant-Man and The Wasp: Nano Battle!.