Bagaimana penampakan sisi punk seorang desainer yang sudah dikenal unggul dan popular dalam urusan bridal? Ternyata unik juga, seperti melihat the sweetest side of the darkness. Cantik, tapi juga misterius. Elegan, tapi juga menimbulkan perasaan 'jangan macam-acam ya!'. Ini lah koleksi terbaru Vera Wang untuk musim gugur 2019.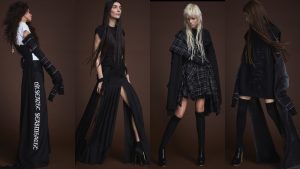 Drama Lace vs Celtic Warrior
Idenya berasal legenda Celtic Warrior, orang-orang pemberani dan dingin. Vera menyerap warna-warna hitam yang tangguh, lalu memadukannya dengan bahan plaid (kotak-kotak khas Celt) yang warnanya diredam seredup mungkin. Potongan bahan ditata dengan teknik draping yang seolah-olah tampak seperti selimut. Lalu sisi paling drama adalah, Vera  menyisipkan bahan lace putih di antara kepungan hitam kelam. Kontradiksi lace lembut dan kultur Celtic, menghasilkan kesan yang tak akan membosankan.
Foto: Courtesy of Vera Wang