Saya mengetahui Barli Asmara di sekitar tahun 2003, nama baru yang tersembul perlahan di arena mode di Jakarta. Waktu itu saya pikir 'cukup berani juga anak ini muncul!', soalnya waktu itu Jakarta sudah terkepung ketenaran Biyan, tiga serangkai Adrian Gan, Didi Budiarjo, Sebastian Gunawan, sensasi kurva Eddy Betty, gaun-gaun modern modest Itang Yunasz, serta romantisme Denny Wirawan. Rasanya akan sulit untuk bisa menembus dominasi nama-nama tersebut, mereka begitu digandrungi dan juga 'media darling'. Nama Barli diperkenalkan oleh dua fashion editor saya waktu itu, Elvara Jandini dan Quartini Sari, "Ini bagus dan unik," ujar mereka pendek dan yakin. Karena saya membawahi beberapa fashion editor pria dan wanita, saya jadi terbiasa melihat cara mereka menilai karya-karya mode. Fashion editor pria cenderung lebih suka desain yang dangerously sexy, monumental, dan super modern. Sementara fashion editor wanita umumnya lebih suka desain gaun yang wearable, kreatif, nyaman, dan juga bisa membuat mereka bertambah cantik. Sadar atau tidak, fashion editor wanita kerap meletakkan diri mereka sebagai end user. Bagi saya ini bukan sekedar sudut pandang seorang fashion editor wanita, tapi juga sudut pandang konsumen, sudut pandang yang menghembuskan sense of business bagi produk mode.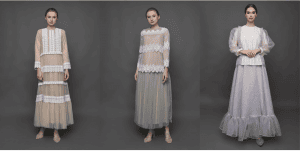 Dewi Sandra Sampai ke Duo Ratu
Di masa awal karir tersebut Barli bertemu dengan Dewi Sandra yang sedang membutuhkan baju untuk penampilan perdana. Barli yang baik hati menerima ajakan Dewi, tanpa memperhitungkan apakah Dewi sudah tenar atau masih pemula. Ternyata inilah titik loncatan besar Barli ke kancah fashion dan publisitas yang lebih tinggi. Debut Dewi Sandra yang menanjak pesat membuat Dewi menerima banyak tawaran show di televisi dan juga panggung-panggung off air, Dewi semakin sering menyerahkan penampilannya kepada Barli. Dewi tak tinggal diam, ketika satu per satu musisi lain bertanya tentang busana-busana yang ia kenakan, Dewi segera mempromosikan Barli. Dewi membukakan pintu untuk Barli menangani Titi DJ yang waktu itu sedang melesat dengan lagu Sang Dewi, dan membutuhkan banyak baju untuk acara-acara off air. Selanjutnya duo Ratu, yang terdiri dari Pinkan Mambo dan Maia Estianty juga sempat mendapat sentuhan Barli.
Kultur Baru Endorsement
Barli tanpa sadar menkontribusikan kultur baru industri mode, merancang baju untuk penampilan penyanyi. Nama Barli berkelebatan muncul di banyak acara-acara musik nasional di televisi. Kalau di Amerika Serikat ada nama desainer Brandon Maxwell yang memulai karir merancang untuk selebriti, maka di Jakarta ada Barli Asmara. Tahun-tahun sekitar 2005, belum terdengar ada desainer papan atas yang mau terang-terangan melakukan endorsement untuk penyanyi Indonesia (kecuali Samuel Watimena untuk AB3 dan Ruth Sahanaya). Formula endosement yang awalnya dipandang kurang elegan ini terbukti di tangan Barli menjadi strategi pemasaran yang sangat jitu. Sukses berjejaring di layar kaca ia imbangi dengan tetap menjaga jejaring di media cetak. Langkah marketing yang hanya dilakukan oleh Barli Asmara kala itu.
Teman-Teman Mendoakan
Tidak hanya tampil di layar kaca, rancangan Barli terpampang juga di halaman-halaman fashion, bertengger pula di sampul-sampul depan banyak majalah. Barli menjadi salah satu desainer dalam ajang Dewi Fashion Knights tahun 2008, ajang tahunan yang selalu menjadi buah bibir fashion di Jakarta. Ia mendapat penghargaan AMICA Young Talented Designer Award tahun 2010, dan ELLE Designer of the Year 2012. Namun pada tanggal 27 Agustus 2020 hari ini, Barli Asmara tutup usia pada usia 42 tahun. Berita yang mengejutkan, "Barli orangnya ramah, lembut. Seorang designer yang talented yg sudah menghiasi dunia fashion Indonesia. Selamat jalan my dearest Barli." Ujar Aida Nurmala dari Studio One yang banyak berkiprah dengan desainer-desainer terkemuka Indonesia termasuk Barli.
"Barli sebagai desainer, punya komitmen yang tinggi terhadap profesi. Barli selalu menyanggupi konsep desain apapun yg saya berikan secara mendadak, ketika dulu saya masih bekerja sebagai Redaktur Mode majalah Dewi. Barli juga teman kerja yang sangat baik, sopan dan intelek. Till we meet again, Barli." Ungkap Quartini Sari, fashion editor yang turut berperan dalam mempopulerkan kiprah Barli di arena mode.
"Aku kenal almarhum Barli dari almarhum Adesagi dulu," ujar fashion designer Mel Ahyar. "Aku enggak kenal secara pribadi. Barli pun tidak aktif di Ikatan Perancang Mode Indonesia, jadi kami bertemu pas ada project atau event bersama saja. Secara personal Barli orangnya sangat baik dan humble, ramah dan lumayan mendengarkan kalau kita sedang bercerita. Barli pekerja keras dan sebagai designer dia sangat produktif."
Sementara Lynda Ibrahim, seorang penulis mode dan business consultant mengatakan bahwa, "Barli Asmara adalah salah satu talenta mode Indonesia yang paling sering berkolaborasi dengan berbagai pihak sejak dulu, mungkin ini karena sifatnya yang fleksibel dan sikapnya yang bersahabat. He will be missed by many."
Foto: Dokumen Barli Asmara