The Hermitage, a Tribute Portfolio Hotel, Jakarta, merayakan bulan suci Ramadan dan sambut Idul Fitri 1443 H, dengan mengundang tamu untuk berkumpul bersama keluarga dan kerabat. Sebagai penanda perayaan The Hermitage Jakarta merangkul salah satu sosok gaya hidup dan fashion influence, Ayla Dimitri, untuk menciptakan Lebaran Hampers yang cantik berhiaskan desain motif imajinasi Ayla. "Saya selalu dibuat kagum dengan sejarah kolonial The Hermitage Jakarta, keindahan desain art deco bangunannya, serta tawarannya yang memikat," ujar Ayla. Untuk kolaborasi perdananya dengan The Hermitage Jakarta, Ayla mengimplementasikan dua warna favoritnya, yaitu hijau zaitun dan kuning mustard. "Motif yang saya desain merupakan simbol dari cita rasa personal saya serta perpaduannya dengan tema Peranakan yang diusung The Hermitage Jakarta," jelas Ayla. Bingkisan Lebaran ini tersedia dalam dua pilihan: Regular dan Premium. Paket Reguler terdiri atas empat toples kue kering artisanal: Peanut Butter, Double Chocolate, Nastar, dan Kaasstengels dengan harga Rp728.000++. Sementara paket Premium berisikan empat toples kue kering, mocktail spesial The Hermitage Jakarta, The RR Chocolate bar and spread, serta biji kopi Tanamera dan ditawarkan dengan harga Rp1.928.000++.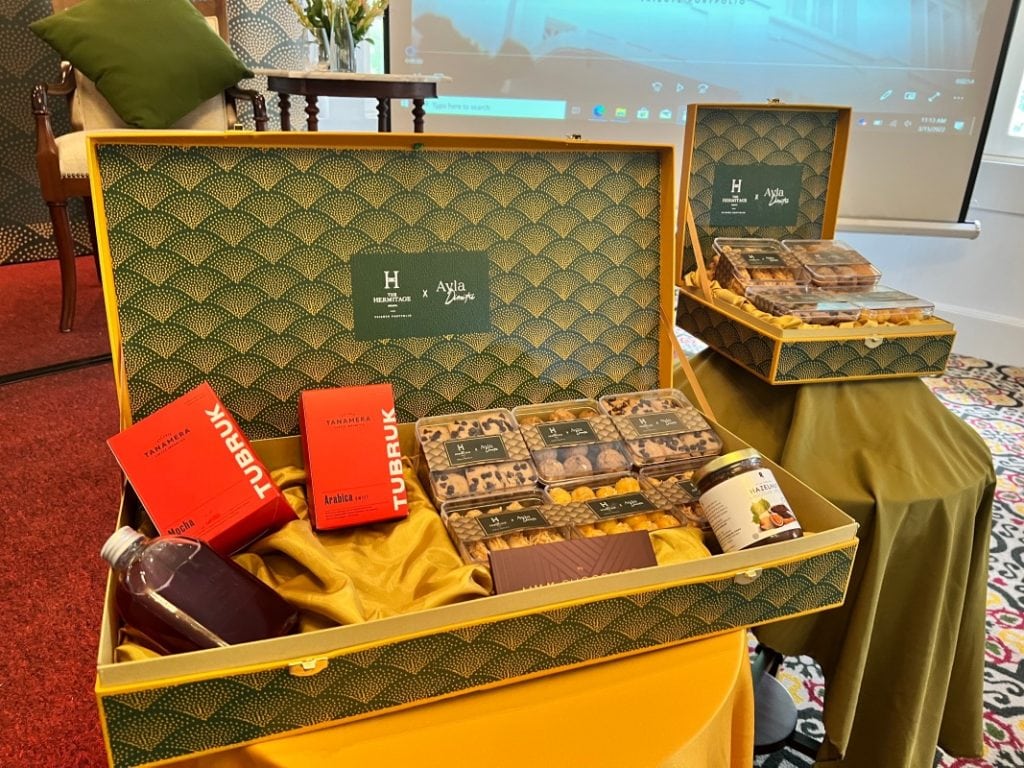 Berbuka di restoran 1928 atau di rumah
Restoran 1928, restoran baru di The Hermitage Jakarta, dalam momen istimewa ini akan menyajikan pilihan sajian Peranakan untuk berbuka puasa kreasi Executive Chef Ferdian Tobing beserta timnya. Adapun hidangan yang siap memanjakan tamu, di antaranya Menara Takjil, Gulai Kepala Ikan, Sup Bakwan Kepiting, Udang Sambal Belimbing, Sotong Masak Hitam, Puding Sagu Gula Melaka, aneka es Peranakan, serta masih banyak lainnya. Paket buka puasa dan makan malam ini tersedia dari 2 April hingga 2 Mei 2022 dengan harga Rp428.000++ per orang termasuk es teh manis, kopi, dan teh. Anak-anak usia 6-12 tahun akan mendapatkan diskon sebesar 50%. Kalau ingin tetap berbuka puasa di rumah, coba nikmati lezatnya sajian Ramadan dan Lebaran dari tim kuliner The Hermitage Jakarta yang telah menyiapkan menu Ramadan Peranakan untuk dibawa pulang. Menu yang kami tawarkan mencakup Ayam Balacan, Sup Bakwan Kepiting, Puding Sagu Gula Melaka dan masih banyak lagi lengkap dengan aneka sambal dan kurma premium. Paket ini terdiri atas dua pilihan menu dengan porsi untuk empat orang dengan harga Rp828.000++.
Paket Menginap Ramadan & Lebaran
Sepanjang bulan Ramadan dan musim libur Idul Fitri, The Hermitage Jakarta telah menyiapkan paket menginap bagi tamu-tamu terhormat kami. Menginap di gedung terbaik di Menteng dari selama Ramadan antara 1 April hingga 1 Mei 2022 dengan paket Ramadan dengan harga mulai dari Rp1.900.000++ per kamar per malam mencakup makan sahur atau sarapan serta dining credit sebesar Rp500.000. Kemudian di masa libur Idul Fitri, nikmati tawaran Lebaran Package dari 2-7 Mei 2020 dengan harga mulai dari Rp2.300.000++ per kamar per malam dan sudah termasuk sarapan serta dining credit Rp1.000.000.