Kesempatan holiday season tahun ini terasa lebih artistik dan lebih wangi, ada yang keharuman yang semerbak berbaur dengan taburan bunga-bunga salju putih yang akan menyelimuti negeri empat musim. Chanel mengajak Jean-Paul Goude, seorang graphic designer dan film director yang sudah hampir tiga dekade membantu keartistikan Chanel, untuk membuat kampanye baru parfum N˚5 L'Eau. Jean langsung memainkan imajinasinya dengan fantasi yang joyful, mentransfernya ke bentuk video pendek, menampilkan Lily-Rose Depp sebagai bintang utama. Lily memang ambassador dan wajah dari parfum N˚5 L'Eau. "Film ini didedikasikan untuk holiday season, menghadirkan visual yang puitis, magic, joy, dan surprise. Karya-karya Jean memang gabungan antara humor dan kegembiraan, dengan gaya sajian yang off-beat", ujar  Thomas du Pré de Saint Maur – Head of Global Creative Resources dari CHANEL.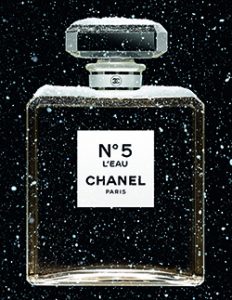 Color of Life, Color of Blood
Lily-Rose Depp mengatakan bahwa ia senang memainkan karakter yang diciptakan Jean. "Saya seperti terbawa kembali saat-saat natal di pagi hari di masa anak-anak dulu", ujarnya. D film ini Lily mengenakan gaun mini, sarung tangan tanpa jemari ala Karl Lagerfeld, dan boots merah yang tinggi sepaha. Rambut ditata bergelombang ala tahun 40an, dan dihiasi dengan baret putih yang chic. Jean memikirkan setiap elemen di film ini secara mendetail, ia membuat replika botol N˚5 L'Eau setinggi 3 meter, logo double C raksasa, dan tumpukan kado-kado berwarna putih, hitam, dan merah. Sentuhan warna merah yang muncul di sana-sini adalah tradisi kampanye parfum-parfum Chanel, sekalian tribute untuk ucapan Gabrielle Chanel: "color of life, color of blood", juga warna ekspresi dari femininity, gairah, dan semangat.