"Sampai ketemu lagi, Peri Kecil…" ujar tokoh Geez dengan suara yang tenang tetapi terasa pasrah dan sedikit getir. Dialog ini terdapat di trailer Geez & Ann The Series yang ditayangkan eksklusif di Vidio Original Series mulai 18 Februari 2022. Drama cinta yang tampaknya bakal menggeser popularitas 'Ikatan Cinta' ini diproduksi oleh MVP Entertainment. Geez & Ann The Series, akan mengulang kembali kesuksesan versi filmnya yang sudah ditayangkan di 2021. Vidio Original Series ini akan dibintangi kembali oleh Hanggini Purinda Retto sebagai Keana Amanda(Ann) dan Junior Roberts sebagai Gazza Cahyadi (Geez). Seperti film sebelumnya, Geez & Ann The Series juga diadaptasi dari novel viral karya penulis idola millenial Nadhifa Allya Tsana atau yang populer dengan nama pena, Rintik Sedu. Alur ceritanya akan membawa penonton larut dalam kisah cinta Geez & Ann yang kembali dipertemukan setelah mereka mengakhiri hubungan romansa yang terjalin di masa remaja mereka.
Ketika kenangan cinta masa sekolah bertaburan kembali
Geez dan Ann dewasa bertemu kembali di ajang reuni SMA. Ann yang sedang menjalani internship di sebuah rumah sakit, telah bertunangan dengan Bayu (diperankan oleh Roy Sungkono). Bayu sedang merintis bisnis kafe dengan serius, ia bercita-cita untuk membeli sebuah rumah untuk ia berkeluarga bersama Ann. Sementara Geez yang memiliki bisnis start-up bertekad untuk kembali ke kehidupan Ann walaupun hanya sebatas teman. Hm, apakah mereka bisa menjalin pertemanan biasa saja dan menahan perasaan cinta? Tina Arwin selaku Chief of Content Officer Vidio menambahkan "Sebagai bagian dari komitmen Vidio dalam menghadirkan serial original yang akan menghibur penontonnya, Geez & Ann The Series menjadi salah satu suguhan terbaik kami dalam membuka awal tahun 2022 ini. Series ini bercerita mengenai kisah cinta remaja yang apik antara Geez dan Ann yang diadaptasi dari buku karya Rintik Sedu, dimana tidak hanya menawan hati pembaca bukunya namun juga penonton filmnya" ujar Tina.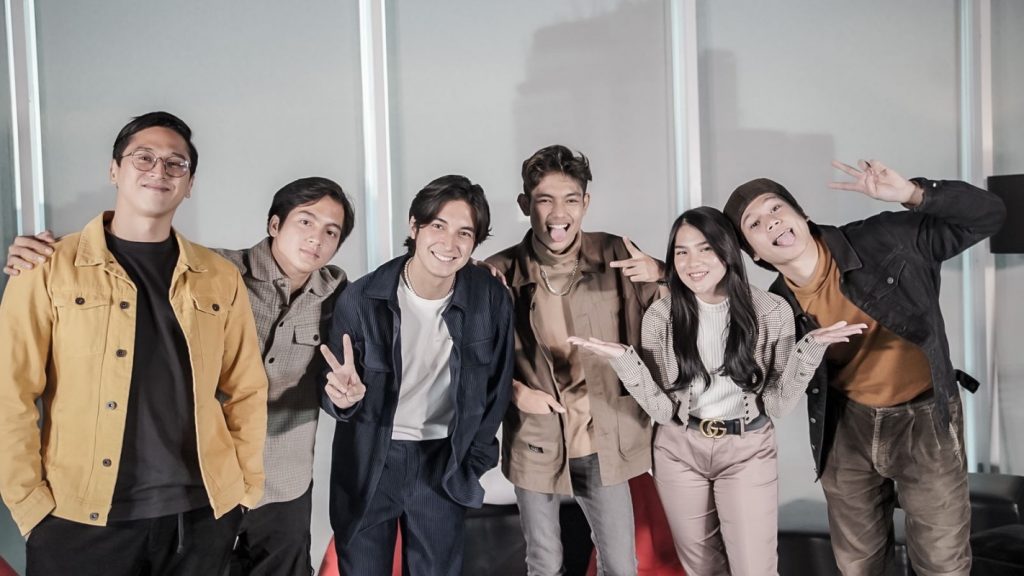 Serial yang akan memikat hati – Raam Punjabi
Produser dan Presiden Multivision Plus, Raam Punjabi menambahkan, "Geez & Ann The Series akan memikat hati pemirsa Vidio. MVP akan mempertahankan posisi kami sebagai pioneer dalam memilih genre yang berbeda dan menarik yang akan melekat di hati pemirsa Vidio secara khusus dan pemirsa tanah air yang menggemari sajian hiburan dalam negeri sendiri."  Sutradara dari Geez & Ann The Series, Hestu Saputra berbagi keunikan Geez & Ann The Series  terletak pada cerita yang pelik namun ringan untuk dicerna. "Kita bisa menyaksikan beberapa fase kehidupan Geez dan Ann. Masing-masing memiliki pandangan berbeda akan kehidupan, apalagi latar belakang keduanya sangat berbeda. Ann sebagai dokter, dan Geez sebagai musisi. Namun keduanya mampu memahami dan menyampaikan perasaan mereka dengan mudahnya karena cinta." ujarnya. Geez & Ann The Series berisi total 10 episode, penonton bisa langsung menyaksikan 3 episode pertama. Episode 1 dan 2 bisa ditonton gratis. Episode baru akan muncul setiap Jumat pukul 12 malam WIB.