Seharian mendekam di dalam rumah. Jangan terlalu sibuk online. Ini saat peduli dengan kesehatan diri, tidak hanya tubuh, tetapi juga seluruh centi per centi raga, apa lagi area kulit wajah dan tangan. Ini saat yang mewah untuk menstimulasi kehalusan kulit wajah dan meningkatkan radiance yang sehat. Coba tilik satu rangkaian produk yang mengusung perpaduan nature dan science, dengan metode ekstraksi 'infused cosmetics' dari molekul aktif tetumbuhan yang baik untuk memanjakan kulit. Nama skincare ini L'Art du Soin – Diptyque Skincare Collection, yes true, di Jakarta Diptyque lebih dikenal sebagai jenama untuk scented candle dan segala pengharum untuk the art of living. Namun seri skincare Diptyque ini bukanlah hal yang baru, L'Art du Soin sudah diluncurkan sejak tahun 2014, dan di awal tahun ini kembali muncul varian yann terbaru.

Wajah Di Dalam Rumah Dengan Diptyque
Varian dibagi menjadi dua bagian, untuk wajah 'Visage', dan yang terbaru untuk tubuh 'Corps'. Di bagian wajah, terdiri dari produk Daily Cleansing (nourishing cleansing Balm dan radiance boosting powder). Moisturizing Preparation (infused facial water). Special Care (infused face serum, infused face oil, dan essential face cream). Specific Treatments (nourishing lip balm, dan infused face mask). Untuk bagian 'body', tersedia hand care, body care dan hair care. Masing-masing memberikan pengalaman tekstur yang menyenangkan ketika dioleskan di kulit, mereka bertransformasi, misalnya nourishing cleansing balm berubah menjadi oil, lalu berakhir menjadi lotion. Radiance boosting powder berubah menjadi foam. Essential face cream perlahan berubah menyegarkan kulit wajah. Soft lotion body care dari ekstrak melati, terasa creamy, lalu mencair ketika dioleskan, terasa lembut menyenangkan. Wewangian sebagai tradisi Diptyque, melengkapi aspek keunggulan L'Art du Soin, sembari tetap berkomitmen bebas dari penggunaan controversial ingredients.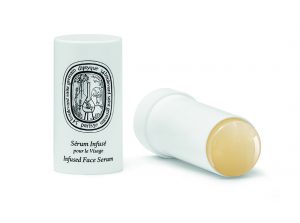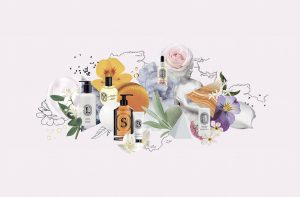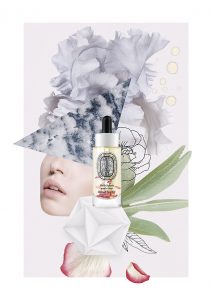 Foto: Diptyque