Global Ambassador Diageo, Ewan Gunn dan Donald Colville, memimpin sesi whisky tasting dan berbagi pengalaman terbaik menikmati scotch whisky.
Diageo kembali sukses menggelar acara bertemakan 'Whisky Experience' di Red & amp; Co, Plaza Indonesia pada 13 Juli dan 14 Juli 2017. Dalam acara yang mengundang para pencinta wiski untuk merasakan pengalaman terbaik dalam menikmati scotch whisky ini The Singleton of Glen Ord dan scotch whisky terlaris di dunia, Johnie Walker turut dihadirkan sebagai minuman yang mampu menyemarakkan malam sebagai bagian dari portofolio minuman alkohol terbaik Diageo RESERVE.
"Menikmati wiski adalah pengalaman unik yang menggabungkan aroma, rasa dan sensasi. Menemukan wiski yang tepat untuk Anda juga bukanlah sebuah tes karena tidak ada peraturan ataupun jawaban yang salah," sambut Head of Commercial Reserve Diageo NAVA+, Kabir Suharan, yang memberikan informasi mengenai cara menikmati wiski dengan baik.
"Kami mengajak Anda untuk mencicipi wiski kami demi mendapatkan perpaduan rasa dari merek Johnnie Walker yang sesuai dengan selera, rasa dan preferensi sensasi Anda. Kami juga akan mengajak Anda dalam perjalanan untuk mengalami salah satu kesenangan hidup yang sederhana,
dengan single malt whisky paling halus dan seimbang, yaitu rangkaian produk wiski Singleton of Glen Ord.
Pada tegukan pertama, Anda akan langsung merasakan kenikmatan dari sensasi dan kehalusan yang dimiliki oleh Singleton. Acara whisky tasting yang dilaksanakan selama dua hari ini juga istimewa karena dipandu langsung oleh Global Ambassador Diageo, yaitu Ewan Gunn dan Donald Colville."
The Whisky Experience dibawakan langsung oleh Global Ambassador Diageo, Donald Colville dan Ewan Gunn, yang memandu sesi whisky tasting. Dua sesi tersebut dilaksanakan secara bergantian.
Bersama-sama, Donald dan Ewan akan berbagi pengetahuan luas mengenai perbedaan single malt whisky dan blended scotch whisky serta cara untuk menikmati keduanya. Pemahaman yang keliru mengenai single malt scotch yang dikira bukanlah blend whisky telah berkembang diantara para konsumen bahkan beberapa bartender. Single malt scotch merupakan blend whisky, merupakan tipe blend yang sangat spesifik. Sebenarnya, hampir semua wiski di pasaran saat ini merupakan blend whisky – bourbon, ryes, Tennessee, dan scotch.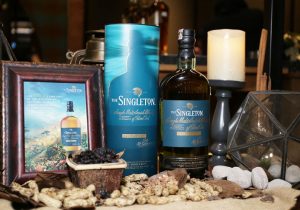 Apa itu blend whisky? Blend adalah campuran dua atau lebih wiski yang dibotolkan dan dijual sebagai satu wiski. Secara resmi, blend whisky adalah produk yang mengandung campuran wiski malt dan gandum yang telah menua di dalam barel dari berbagai tempat penyulingan. Lalu, apa yang dimaksud dengan single malt whisky? Single malt whisky merupakan wiski hasil penyulingan tunggal. Single malt seperti Singleton dapat mengandung wiski dari banyak barel yang diproduksi di tempat penyulingan Singleton, namun hanya mengandung wiski yang diproduksi di
Singleton.
Kata 'single' sendiri mengacu pada produk yang dibuat di sebuah tempat penyulingan yang sama, bukan dari hanya satu jenis gandum. Adanya perbedaan rasa tergantung pada beberapa faktor seperti:
– Lokasi atau wilayah: lokasi yang berbeda bahkan di wilayah yang sama cenderung menghasilkan
profil rasa yang berbeda.
– Bagaimana minuman tersebut menua: barel (barel bekas pakai, yang sudah digunakan untuk
membuat minuman alkohol lainnya) dan lamanya wiski di barel tersebut.
– Seorang Master Blender yang bertugas mencampur barel-barel wiski dan bertanggung jawab
akan rasa dari wiski yang dihasilkan.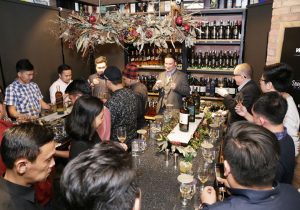 Acara Whisky Experience dari Singleton disempurnakan oleh perjalanan yang dimulai dengan mencicipi jajaran produk wiski Singleton Glen Ord menggunakan teknologi virtual reality. Perjalanan sensoris bersama the Singleton of Glen Ord dimulai dengan perjalanan video virtual reality selama dua setengah menit dengan bantuan perangkat virtual reality headset dan earphone.
Video ini mengisahkan seseorang pengembara yang sedang berkelana ke Skotlandia, ke tempat penyulingan Glen Ord untuk mencicipi rasa dari Glen Ord yang berusia 12 tahun. Perjalanan ini berlangsung bersamaan dengan pengalaman menikmati single malt pemenang berbagai penghargaan, sebuah pengalaman whisky tasting yang belum pernah ada.