Untuk selalu terlibat di dalam sentra denyut bisnis kota Jakarta yang mewah, pilihan paling jitu adalah berada The Residences at The Ritz-Carlton yang terletak di Sudirman Centrak Business District. Properti luxury ini bersisian dengan gedung Bursa Efek Indonesia dan berada satu kompleks dengan Pacific Place Mall.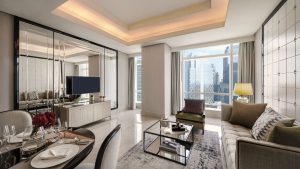 Tamu The Residences at The Ritz-Carlton dapat menikmati pelayanan bintang lima, lengkap dengan armada concierge Ritz-Carlton Ladies and Gentlemen yang siaga melayani 139 unit residence yang tersedia. Unit-unit residence tersebar diantara lantai 26 hingga lantai 39. Setiap unit memiliki pilihan satu, dua, hingga tiga kamar tidur. Luas setiap unit; 80 meter persegi untuk One Bedroom Residence, 123 meter persegi untuk Two Bedroom Residence, serta 165 meter persegi untuk Three Bedroom Residence.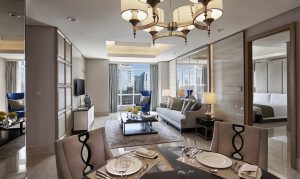 Masing-masing unit residence memiliki walk-in wardrobes, balkon pribadi, jendela besar dengan pemandangan kota, dapur pantry, layanan room service, mesin binatu dan mesin pengering.
Semua penghuni residence dapat mengakses beberapa fasilitas di hotel The Ritz-Carlton Jakarta, Pacific Place. Fasilitas meliputi Ritz-Carlton Spa, pusat kebugaran, kolam renang, PASOLA Restaurant, layanan concierge, housekeeping dan Loss Prevention.
Foto: The Ritz-Carlton Pacific Place