Entah apa yang terlintas di pemikiran Virginie Viard, kali ini ia membuat peragaan busana Chanel dengan cara para model berjalan bergandengan, bagai menyiratkan sesuatu yang sangat diperlukan saat ini, bersatu menghadapi satu tantangan yang sama-sama dihadapi saat ini, pandemic. Memang formasi seperti ini sudah pernah diusung Karl Lagerfeld (juga untuk Chanel) di era Naomi Campbell, Claudia Schiffer, dan Cindy Crawford, dengan efeknya yang sama powerful. Super squad kali ini terdiri dari Shin Hyun Ji, Gigi Hadid, dan Mona Tougard, mereka meraih viral fashion langsung setelah fashion show usai. Mereka mengenakan overcoat yang tangguh, bersiluet rigid bagai coat di serial Wild Wild West, bedanya tentu coat Chanel ini berbahan tweed, berkelepak lebar (yang dikenakan Hyun Ji), dan ber-zipper di sepanjang torso (dikenakan Gigi dan Mona). Di balik coat penghalau udara dingin tersebut, mereka hanya mengenakan shorts, tube top, dan bodice.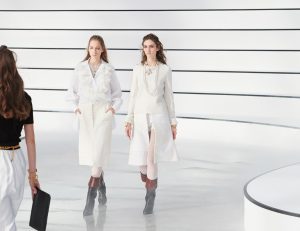 Tak Perlu Lagi Drama
Tampilan Chanel kali ini memang tanpa embel-embel drama (mengingat situasi bumi yang sedang drama saat ini), rancangan diciptakan to the point, dan mengutamakan fungsi. Pemikiran Virginie terlihat solid, ia mengatakan pada siaran pers tentang desainnya untuk koleksi fall/winter 2020 ini, "Sangat sederhana, very pure momentum. Romantisme tetapi tanpa embel-embel. Emosi, tetapi tanpa macam-macam rimpel." Warna hitam putih dikibarkan lebih dominan, menghadirkan karakter Gabrielle Chanel yang sesungguhnya, tidak suka embel-embel dan tangguh. Sepotong Little White Dress, dibuat dengan tepian ala kelopak Camelia, dan bow tie hitam yang datar tanpa gelombang, so chic. Celana jodhpur dengan barisan kancing terbuka di sisi-sisi kaki, memberi mood travel. Sebagai pengimbang kesederhanaan desain, Virginie menaburi rancangannya dengan aksesori barisan bebatuan, chain belt Chanel signature, kalung Mutiara, dan kancing-kancing khas Chanel. Virginie juga mengatakan bahwa untuk pertama kalinya Chanel menggunakan press studs, kancing tekan, di dalam sejarah rumah mode Chanel.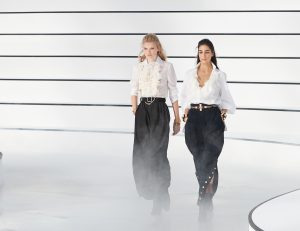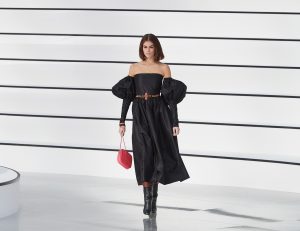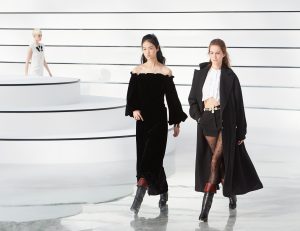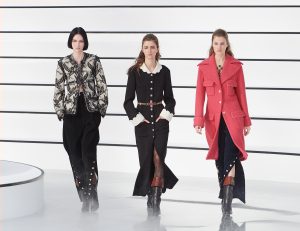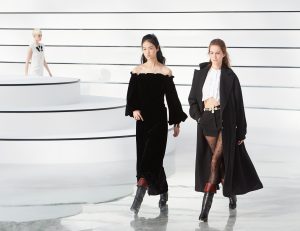 Foto: Chanel