Maze Runner threequel meraup penghasilan $24 juta, pencapaian hebat di pembuka tahun 2018, angka besar yang meraup jumlah penonton besar pula, penonton selain ikut terbawa ketegangan kejar-kejaran dalam film, tanpa sadar mereka juga merekam gaya pakaian para Gladers. Bergaya casual, bernuansa army look, down to earth, dan sporty.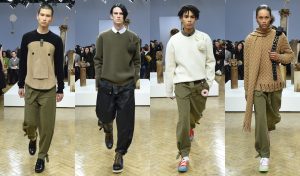 Dari London Fashion Week seri Fall 2018, di maze runway milik desainer JW Anderson, tampil sederet koleksi yang menghembuskan spirit sama, down to earth, bernuansa militer, namun di level millennial dan lebih fashion forward. Sweater berbahu lebar, oversized, berwarna hijau dan desert army, dikenakan dengan celana berpipa lebar (bagian ujung kaki mengecil) dari keluarga celana cargo. Bagian pinggang celana berpola tutup yang dibuka menjuntai satu sisi, keren! Pada bagian depan sweater terdapat ilustrasi militer jaman pin–up girl. Pakaian wanita, sepotong dress berpola trench coat, jejak trench ditegaskan dengan zipper.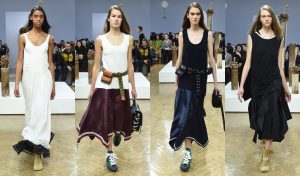 Presentasi JW Anderson ini memberi alternative penyembuhan untuk industri fashion yang beberapa tahun belakangan ini terdera dengan speed produksi yang terlalu cepat, jumlah seri produksi lebih dari dua season setahun, yang berakibat budget presentasi membengkak sangat besar. Bayangkan, satu brand dalam setahun memproduksi seri Woman spring/summer, cruise collection, woman pre-fall, woman fall, man spring/summer, dan man fall/winter. Kurang seksi jika dilihat dari perhitungan bisnis. JW Anderson memutuskan untuk hanya dua kali setahun berpresentasi, spring/summer dan fall/winter, tidak membedakan gender, koleksi pria dan wanita digelar bersamaan di satu runway!
Foto: indigital.tv