Seperti logo Longchamp yang menggambarkan seekor kuda yang melompat jauh, begitulah keberadaan jenama fashion dari Paris ini sekerang. Setelah tahun lalu merayakan usia ke 70, dan menggaet Kendall Jenner sebagai the face of Longchamp di musim gugur, Longchamp semakin melesat dan diperhitungkan di jajaran fashion brand. Walau berbasis di Paris, tapi Longchamp memakai strategi menyeberang ke Amerika, mengibarkan setiap koleksi baru di kota New York. Seperti presentasi koleksi spring 2020 yang digelar kemarin, mengambil tempat di Hearst Plaza di Lincoln Center, New York.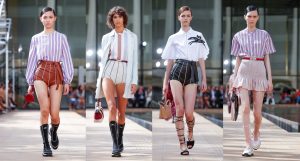 Kendali Gadis-Gadis Kota
Sophie Delafontaine, Direktur Kreatif Longchamp, merancang koleksi terbaru ini dengan menyerap the power of city girl, muda, energetic, sporty, dan girlie. Ide tampilan datang dari mood Bohemian era 70 an digabungkan dengan unsur practical khas era 90an. Ini formulasi yang relevan dengan attitude Ariana Grande dan Normani yang semakin digandrungi banyak city girl, mereka bergaya feminine, namun sporty to the max. Pada koleksi ini Longchamp memilih warna-warna terang gradasi dari putih ke merah marun, dengan sematan sedikit light blue, mint, dan lavender. Kemudian beberapa motif floral yang cenderung gothic cukup membuat rancangan tidak menjadi lemah mendayu-dayu. Rockin'.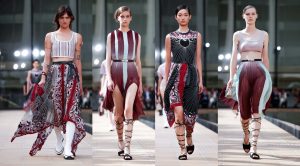 Jaket, Jaket, jaket
Elemen jacket dress tampaknya dijagokan di koleksi ini, ada yang berbentuk big size hoody dari bahan nylon hitam yang dilengkapi dengan ikat pinggang peramping. Jaket berpola raglan longgar sebagai mini dress, dan juka jacket dress berbahan leather yang tangguh. Elemen shorts ala bikini tahun 60an tersembul juga, bersamaan dengan blus-blus berlengan bishop, bersaing dengan rok-rok mini berdetaul smock. Rok midi berpola handkerchief melengkapi kesan Boho dari koleksi ini.
Foto: Guillaume Roujas for NOWFASHION